Incentives:
Owners: Aston Bloodstock (Mgr: W J Mula), Mrs R J Mula, Victoria Street (Mgr: J M Whelan), M J Davidson, C W Neal, M N Pratt, R I Goldbloom, T Romeo, P J Hawks, J E Coady, Dr G W W Tsoi, Moths (Mgr: W A Mason) & P M Willis
Purchased at the 2019 Gold Coast Magic Millions, this colt is by world super sire Redoute's Choice. The undisputed king of Australian sires who sadly passed away in March 2019.
On the track Redoute's Choice won over $1.6m, with his racing done in the late 90's and 2000 this was a massive prize purse back then. Winning 4 Group One's in only his 10 starts. His successful progeny on the track include Miss Finland, Melito, Stratum, Snitzel, The Autumn Sun and our own stable favourite Lankan Rupee.
Redoute's Choice currently sits at 7th on the Australian Leading Sires Table.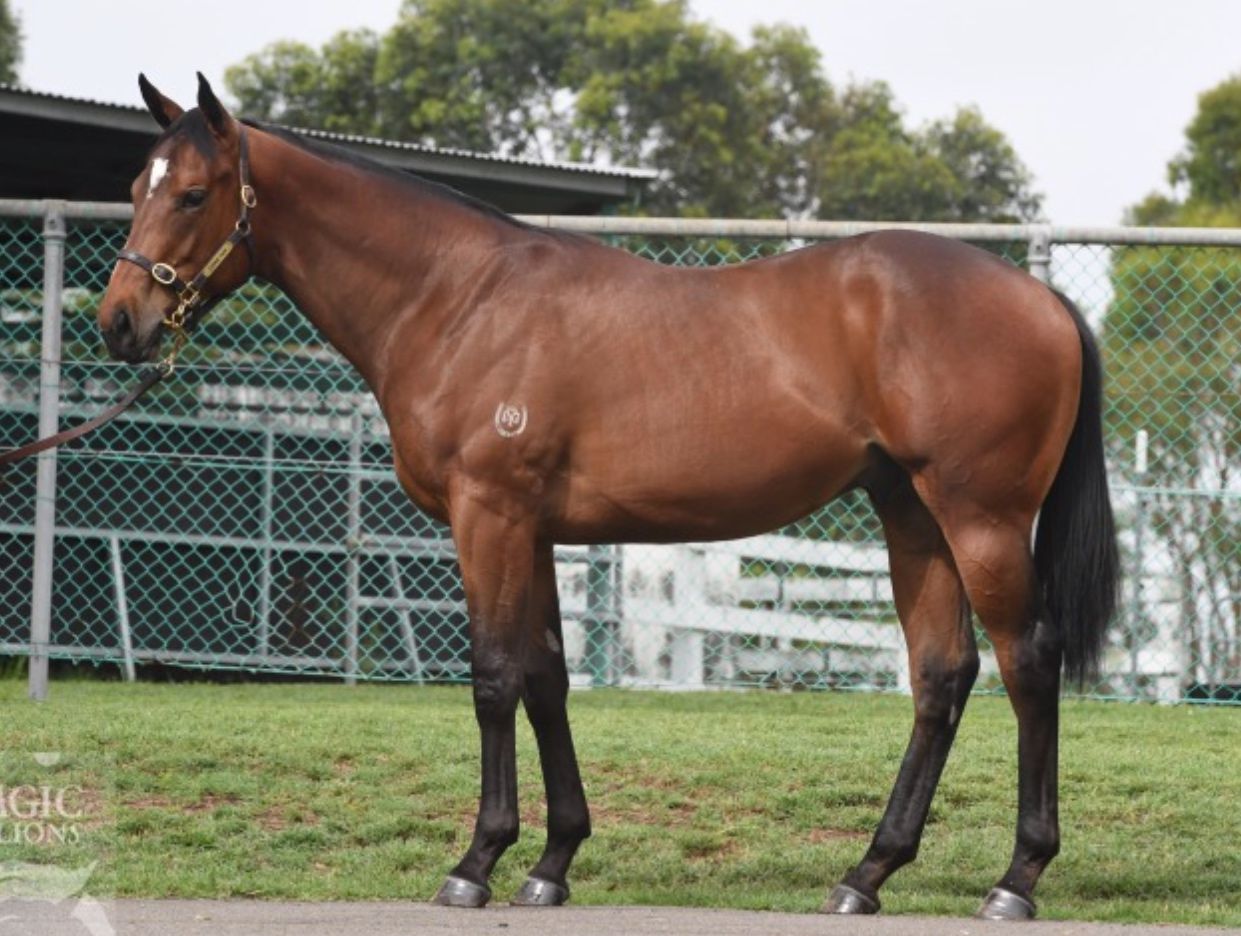 Out of the dam Dyna Slam, a Stakes performer and a 5 time winner on the track, she is also a proven producer. With 4 foals to race, all have been winners. Of an interesting note is that of a gelding called Turnberry, sired by a son of Redoute's Choice in Snitzel. Turnberry, a metro winning horse, of his 21 starts, he has placed in the top 3 14 times!! He has won his connections just over $414,000. We are hoping that with the dominant bloodlines of Redoute's Choice, this cross will be just as good, if not better!!
The Redoute's Choice x Dyna Slam colt was purchased for $300,000 at the Magic Millions yearling sale.
This colt has completed his breaking in and education and is currently spelling.
Ownership opportunities include purchase price and GST, all vet checks, transport from sale, breaking in expenses, Magic Millions race series entry and 12 months mortality insurance.
For further information feel free to call Shona Drechsler on 0408 427 414 or Mick Price on 03 9572 0333.
BAY COLT (AUS)

Foaled 14th September 2017

---

| | | | |
| --- | --- | --- | --- |
| Sire | Danehill | Danzig | Northern Dancer |
| REDOUTE'S CHOICE (AUS) | | Razyana | His Majesty |
| 1996 | Shantha's Choice | Canny Lad | Bletchingly |
| | | Dancing Show | Nijinsky |
| Dam | Grand Slam | Gone West | Mr. Prospector |
| DYNA SLAM (USA) | | Bright Candles | El Gran Senor |
| 2003 | Dyna Performer | Dynaformer | Roberto |
| | | Band of Bronze | Banderilla |

---

REDOUTE'S CHOICE (AUS) (Bay 1996-Stud 2000). 5 wins-2 at 2, MVRC Manikato S., Gr.1. Champion Aust. Sire 3 times Sire of 1411 rnrs, 1064 wnrs, 166 SW, inc. Miss Finland (STC Golden Slipper S., Gr.1), Lankan Rupee, Melito, Master of Design, Redoute's Dancer, Stratum, Samantha Miss, Majmu, Fashions Afield, Musir, Nadeem, Mustaaqeem, God's Own, The Autumn Sun, Lotteria, Wylie Hall, Gallica, King's Rose, Snitzel, Bonaria, Anamato, Galaxy Star, etc.

1st dam

DYNA SLAM, by Grand Slam. 5 wins-1 at 2-from 7½f to 8½f, US$212,975, Prairie Meadows Oaks, L, 2d Hawthorne Peach of it H., L, Arlington Park Your Ladyship S., L, 3d Hawthorne Illini Princess H., L, 4th Arlington Park Purple Violet S., L. Half-sister to Dangerous Dude. This is her seventh foal. Her sixth foal is a 2YO. Dam of four foals to race, all winners-

Charge Missile (g. by Charge Forward). 11 wins to 1200m, A$182,265, ATC Become an ATC Sponsor H., Big Sports Breakfast P., 2d Ipswich TC City of Ipswich P., Happy 21st Bec Barnes H.

Turnberry (g. by Snitzel). 6 wins from 1350m to 1600m, A$414,031, to 2018-19, ATC Eden Brae Homes H., Theraces H., Wyong RC Polytrack Provincial Championship Qualifier, Grafton Guineas, 2d ATC Christmas at the Gardens H., Rosehill Bowling Club H., Bowermans Furniture H., Ranvet Power Formula H., 3d ATC Hyland Boxing Day Sale H., Turfcare Australia H.

Red Dynamite (g. by Red Ransom). 6 wins-1 at 2-to 1400m, A$184,875, ATC Tab.com.au H., TAB Iphone App H., TAB Rewards H., 2d GCTC Haymans H., ATC TAB Place Multi H., Ibis Milano Lunch Special H., 3d ATC Ypr.com.au H., All Too Hard at Vinery H., Allan Denham Racing H.

Good Companion (g. by Exceed and Excel). 4 wins at 1200m, HK$3,047,900, to 2017-18, HKJC Chicago H., New Lantao Bus Service H., Carnation H., Club Street H., 2d HKJC Lyndhurst H., 3d HKJC Aster H., Maverick Star H., Pok Fu Lam H.

2nd dam

DYNA PERFORMER, by Dynaformer. 7 wins from 1m to 9f, 4th Hawthorne Honky Star S., L. Half-sister to BRONZE BASQUE, Silver and Bronze (dam of YOU DON'T PASS), Nijinsky Dancer (dam of DANCING DEPUTY, DANCING WATER). Dam of 5 foals, all winners, inc:-

DYNA SLAM (Grand Slam). 5 wins. See above.

Dangerous Dude (Yes It's True). 2 wins at 7f, 8¼f in U.S.A. and Puerto Rico, 3d Camarero Clasico Jose Celso Barbosa, L, 4th Camarero Clasico Dia de Los Padres, L.

Despite Her Form. Winner at 1m in U.S.A. Dam of-

Silken Spy (The Factor). 3 wins-1 at 2-from 5f to 1m to 2019, 3d Santa Anita Blue Norther S., L.

3rd dam

BAND OF BRONZE, by Banderilla. Placed at 2 in U.S.A. Half-sister to Foolish Award, To the Minute (dam of RED CAT). Dam of 10 foals, all raced, 7 winners, inc:-

BRONZE BASQUE (Bounding Basque). 6 wins from 1m to 9f, Woodbine Fair Play S., L, Colonel RS McLaughlin H., L, 3d Woodbine Durham Cup, L, Fort Erie International Turf Cup, L, 4th Woodbine Fair Play S., L.

Silver and Bronze. Winner at 5½f in Canada. Dam of-

YOU DON'T PASS (Pikepass). 6 wins at 5f, 6f, US$257,108, Woodbine Kenora S., L, Allowance, 2d Woodbine Mt Sassafras S., L.

On the Podium (Bold Executive). 2 wins-1 at 2-at 5f, 6f, 3d Woodbine Shady Well S., L. Dam of-

QUALITY LASS (Exclusive Quality). 8 wins-1 at 2-to 6f, US$416,650, Parx Racing Turf Amazon H., L, Presque Isle Downs Satin & Lace S., L, 3d Pimlico The Very One S., L, Ocala OBS Sprint S. (f), L.

Matching Sox. Placed at 2 in Canada. Dam of-

DOUBLE MALT (Whiskey Wisdom). 5 wins-2 at 2-from 6f to 8½f, US$343,866, Woodbine Passing Mood S., L, La Prevoyante S., L, South Ocean S., L, Eternal Search S., L.

Nijinsky Dancer. Placed in Canada. Dam of-

DANCING DEPUTY (Silver Deputy). 2 wins at 2, Woodbine Vandal S., L, 3d Woodbine Autumn Yearling Sales S., L.

DANCING WATER (Silver Deputy). 4 wins-3 at 2-at 8½f, Fair Grounds Tiffany Lass S., L, Louisiana Downs Lady Luck S., L, Meadowlands Jersey Blues H., L, Monmouth Twin Lights S., L, 3d Meadowlands Boiling Springs H., Gr.3. Producer.

Jinny's Gold (Gold Fever). 3 wins-1 at 2-at 1m, 8½f, US$200,834, Churchill Downs Allowance, 2d Keeneland Valley View S., Gr.3, 3d Churchill Downs Regret S., Gr.3, Woodbine Ontario Colleen H., L. Dam of-

SHARLA RAE (Afleet Alex). 5 wins-3 at 2-from 5½f to 9f, US$452,308, Del Mar Oaks, Gr.1, Golden Gate Pike Place Dancer S., L, California Oaks, L, Los Alamitos RC Barretts Debutante S., L, 2d Santa Anita Honeymoon S., Gr.2, 3d Turfway Park Bourbonette Oaks, Gr.3, Santa Anita Possibly Perfect S., L, 4th Del Mar Sorrento S., Gr.2.

Feline Flatline. Unraced. Dam of-

MIHOS (Cairo Prince). 2 wins-1 at 2-at 6f, 1m to 2019, Gulfstream Park Mucho Macho Man S., L.