Incentives:
Owners: S P Hedge, Newgate Bloodstock, Dr A J Bongiorno, Map 28 Fillies, Ms J Crewes, Dahlia Bloodstock, A R Davis, P J Donegan, D M Foley, G1g Racing & Breeding, L J Gillings, B D Goldsmith, G D Jones, G G Macdonald, P D Mullen, W Pantel, R Smykowsky, Mrs D S Newhouse & Mrs J E Weir
LIMITED OPPORTUNITY!!!
An owner has cancelled their investment, please contact us to snap up this ownership opportunity! Once sold we can get this colt named!
It was always going to happen!! At the Gold Coast Magic Millions we secured a colt by one of our very own Group One winners Extreme Choice! We love him and we think you will too!!
Extreme Choice was a pocket rocket! Not overly big but that didn't stop him from earning just over $1.7million on the track! A son of the speedy Not A Single Doubt, Extreme Choice won the Group One Blue Diamond and Moir Stakes. Beating the likes of Redzel, Chautauqua, Buffering, Ball Of Muscle and Heatherly.
Click on the video below to watch him parade and hear Mick's thoughts on the horse.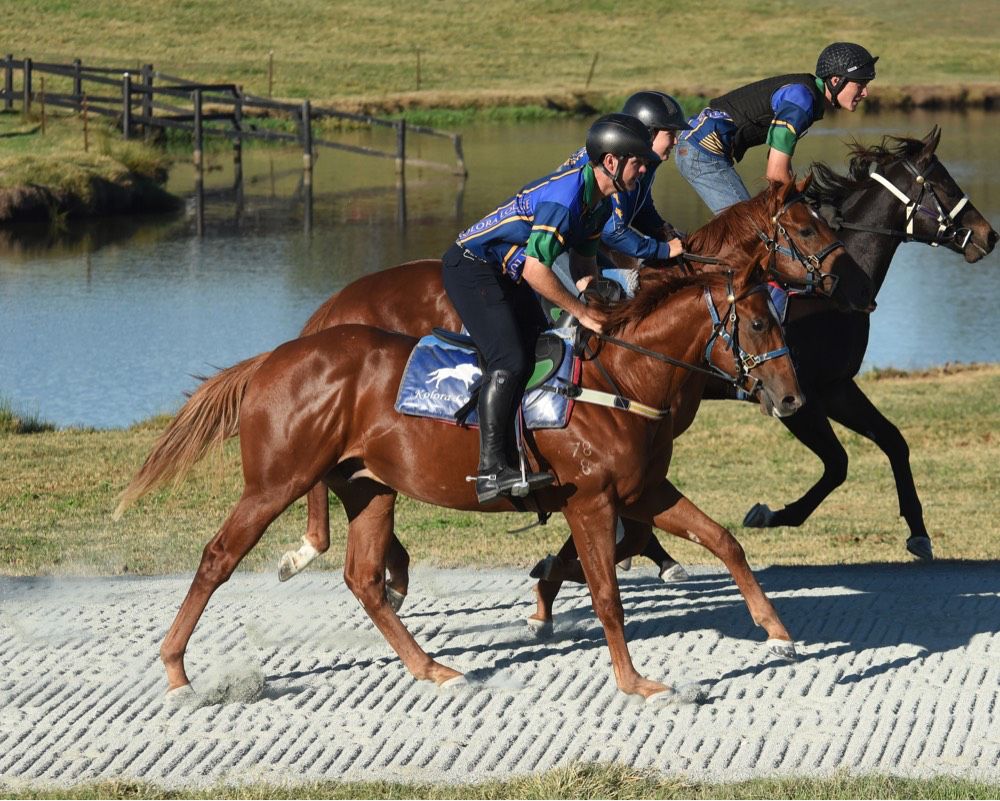 The colt has been broken in, spelled and is now back in work at Kolora Lodge in Queensland. The latest update from Kolora Lodge on April 25 is that the colt has been in pre training for 5 days now. He is looking and feeling great, he is enjoying being back in work and has retained his previous education very well. He is a lot more settled so far this preparation and we are pleased with the progress he is making. See photo above of the colt in work.
Out of a Mossman mare, she was a 4 time winner over 1000m to 1200m. She won over $271,000 on the track. Only a young mare this is her first foal.
The colt was purchased for $180,000. Ownership opportunities in the colt includes purchase price and GST, breaking in expenses, transport from the sales, vetting (including scope, x-ray inspections and clinical exam), twelve month mortality insurance, emergency surgery cover, agistment, Magic Millions Race Series and photographs/video of the horse.
For further information please email shona@pricekentracing.com.au or call Shona Drechsler on 0408 427 414 or Mick Price on 0418 179 345.
CHESTNUT COLT (AUS)

Foaled 30th September 2018

---

| | | | |
| --- | --- | --- | --- |
| Sire | Not a Single Doubt | Redoute's Choice | Danehill |
| EXTREME CHOICE (AUS) | | Singles Bar | Rory's Jester |
| 2013 | Extremely | Hussonet | Mr. Prospector |
| | | Going to Extremes | Nasty and Bold |
| Dam | Mossman | Success Express | Hold Your Peace |
| PINK PERFECTION (AUS) | | Lichen Lady | Twig Moss |
| 2011 | La Mamma Rosa | Testa Rossa | Perugino |
| | | Sounds Positive | Sound Reason |

---

EXTREME CHOICE (AUS) (Chestnut 2013-Stud 2017). 4 wins-3 at 2-at 1000m, 1200m, A$1,736,250, MRC Blue Diamond S., Gr.1, MVRC AJ Moir S., Gr.1, MRC Chairman's S., Gr.3, ATC Inglis Nursery, RL, 3d MRC Oakleigh P., Gr.1. Brother to SP Raise No Doubt (3d Singapore TC Garden City Trophy, L). Grandson of SW Going to Extremes (Woodbine Royal North H., L). Same family as SW Fleet Shoe, SW Eastern Rise, etc. His oldest progeny are yearlings.

1st dam

PINK PERFECTION, by Mossman. 4 wins-1 at 2-at 1000m, 1100m, A$271,585, ATC Australian Turf Club 2YO H., VRC Beachside H., MRC Dennis Hanrahan H., Bendigo JC Big Dance by Oamaru Force H., 2d VRC Tauto H., MRC No Fuss Event Hire H., Browns Sawdust & Shavings H., 3d ATC City Tattersalls Club Victory Vein 2YO P., MRC Grand Hotel Frankston 2YO H., MVRC Inglis 55 Second Challenge Heat H., 4th SAJC Lightning S., L. This is her first foal.

2nd dam

LA MAMMA ROSA, by Testa Rossa. Placed, 2d MVRC Members Equity Bank P., Tattersall's P., 3d MVRC Allrig P. Half-sister to SPINNING CON. Dam of 5 named foals, all raced, 4 winners, inc:-

La Tikka Rosa. 5 wins-1 at 2-to 1200m, A$152,165, BRC Bundaberg Distilling Company H., Iveco H., Electrical Trades Union QLD & NT P., Ipswich TC Ray White Dash P., 2d VRC Trevor Clarke H., Big Picture Group H., 3d BRC Sky Racing World H. Dam of-

Larson. 2 wins at 2 in 2018-19 in Aust.

Pink Perfection. 4 wins. See above.

La Chica Rosa. Winner at 1500m in Aust.

La Denna Rosa. Winner at 1100m in Aust.

3rd dam

SOUNDS POSITIVE, by Sound Reason. 3 wins from 1500m to 2400m, Tasmanian Oaks, L, VRC Sanderae H., 2d VRC Gurner's Lane H., VATC Chicquita H. Dam of 12 named foals, 9 to race, 5 winners, inc:-

SPINNING CON (Spinning World). 8 wins from 1200m to 2000m, A$219,820, NSW Tatt's RC Tattersall's Club Cup, L, STC Japan Racing Association Cup H., Berjani Jewellers H., Ron Hardie Good Guys Penrith H., 2d AJC Royal Randwick 2YO H., Bobs Bernbrook H., Campbelltown H., Bernbrook H., 3d STC Future Warehouse H., VRC Toryboy H.

Runhardt. 2 wins at 1600m, 2100m, TRC Seize the Day Scholarship H.

Sound Tycoon. 6 wins from 1250m to 1950m, 2d SAJC Terry McAuliffe H., 3d SAJC Christies Beach Hotel H., MLH Insurance Brokers H., Woodhead International P.

Detawtus. 3 wins from 1400m to 1600m in Aust.

The Masterpiece. Winner at 1000m in Aust.

4th dam

POSITIVE THOUGHTS, by Roi Lear. Unraced. Half-sister to ROUND THE WORLD (dam of (THE) GRANDMASTER), Tour de France. Dam of 6 foals, 3 to race, 2 winners, inc:-

SOUNDS POSITIVE (Sound Reason). 3 wins. See above.

5th dam

LA MASCARADE, by Pretendre. Unplaced. Half-sister to ROYAL REGATTA (dam of MUSHTAK), LOVE IN A MIST, BAYSHORE, Lord La Di Da, Garden of Eden (dam of THE PERFUME GARDEN). Dam of 9 foals, 6 to race, 5 winners, inc:-

ROUND THE WORLD (Sea Anchor). 5 wins from 1600m to 2600m, A$411,080, Queensland Oaks, Gr.1, AJC Chairman's H., Gr.3, STC Neville Sellwood S., L, AJC Kista H., STC September H., 2d AJC Sydney Cup, Gr.1, AJC Oaks, Gr.1, QTC Brisbane Cup, Gr.1, STC Storm Queen S., Gr.2, 3d QTC Brisbane Cup, Gr.1, MVRC Crown Lager S., L, 4th AJC Queen Elizabeth Randwick S., Gr.1, STC Hill S., Gr.2, NE Manion Cup, Gr.3. Dam of-

(THE) GRANDMASTER (Centro). 3 wins from 1900m to 2400m, A$141,640, 14,400Rgt. in Aust. and Malaysia, City Tattersall's Club Cup, L, 2d VRC Lean Cuisine H., Gr.2.

Gypsy Moth (Zabeel). 4 wins from 1600m to 2150m, ARC Schofields H., 2d ARC Lindauer Grandeur S., Gr.3. Dam of-

GYPSY FAIR (Falkirk). 7 wins from 1200m to 1600m, NZ$153,055, Marton JC Metric Mile, Gr.3, WRC IRT North Island Challenge H., Levin RC Linwood Park Stud H., Hello September the Dial a Prayers H.

Piccadilly Lily. Unraced. Dam of-

BEAUTIFUL GIRL (Black Minnaloushe). 7 wins at 1200m, NZ$165,437, ARC Darley P., Gr.3, Suburban Newspapers Community Trust H., Telecom H., 3d Avondale JC Concorde H., Gr.2.

Tour de France (Balmerino). 2 wins at 1600m, 1900m, AJC Flick Pest Control H., STC Taubmans Paints H., 2d STC Christmas Cup, L. Producer.

Effie and Alice. 3 wins at 1400m, 1600m, Waikato RC Delta Timber H. Dam of-

Eastend. Unraced. Dam of-

LEIGH VALLEY (Bianconi). 5 wins from 1100m to 1600m, NZ$104,875, WRC Cuddle S.H., Gr.3, Counties RC Trusts Charitable Foundation H., 2d CJC Coupland's Bakeries Mile, Gr.3, 4th WRC Captain Cook S., Gr.1. Dam of-

VALLEY GIRL (Mastercraftsman). 4 wins from 1200m to 2000m, NZ$273,375, A$110,000, Waikato RC Herbie Dyke S., Gr.1, Whangarei RC Harcourts Optimize Group H., ARC Hallmark Stud H., 2d ATC Vinery Stud S., Gr.1, 3d ARC Eight Carat Classic, Gr.2, 4th ARC Trevor Eagle Memorial S., L.