Incentives:
Owners: Double R Thoroughbreds (Mgr: S J Rossow), L H Sholl, G G B Macdonald, Mrs P A McIntyre, S D Musson & G L Sturgess
Sired by one of Australia's best stallions in Sebring – this filly is purchased at the Inglis Easter Sale is out of the Stake performing mare Pagan Princess. A winner of just under $149k.
This athletic is of medium size, is fairly knitted up in the knees, and while we didn't buy her to be a two-year-old, she could surprise us. She has a big strong hind quarter and is from a proven stallion in Sebring.
Sebring himself won the 2yo TRIPLE CROWN in Sydney by winning the Golden Slipper, Sires Produce, and Champagne Stakes. He is the sire of some of the most successful stars on the track in Dissident, Egg Tart, Lucky Bubbles, Amphitrite and Ringadingding to name a few.
Sebring is well known for producing tough horses, unfortunately Sebring is no longer alive, but he is and will be remembered for being a star on the track and a proven producer with three current Group One winners.
This filly has been broken in, spelled, pre trained and is now currently in our Caulfield stable. She will train in our stable until mid August and then be spelled.
Ownership opportunities include purchase price and GST, all vet checks, transport from sale, breaking in expenses, Inglis Race Series,12 months mortality insurance, and 2020 Golden Slipper and Blue Diamond early nominations.
For further information feel free to call Shona Drechsler on 0408 427 414, Michael Kent on 0432 164 086 or Mick Price on 03 9572 0333.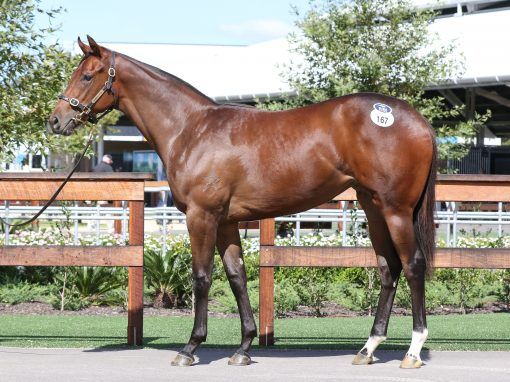 BAY OR BROWN FILLY (AUS)

Foaled 11th October 2017

---

| | | | |
| --- | --- | --- | --- |
| Sire | More Than Ready | Southern Halo | Halo |
| SEBRING (AUS) | | Woodman's Girl | Woodman |
| 2005 | Purespeed | Flying Spur | Danehill |
| | | Lady Moulin | Luskin Star |
| Dam | Bite the Bullet | Spectacular Bid | Bold Bidder |
| PAGAN PRINCESS (AUS) | | Lassie's Lady | Alydar |
| 2005 | Annunaki | Air de France | Seattle Slew |
| | | Mavis Edith | Best Western |

---

SEBRING (AUS) (Chestnut 2005-Stud 2009). 5 wins at 2, STC Golden Slipper S., Gr.1. Sire of 717 rnrs, 478 wnrs, 53 SW, inc. Criterion (Australian Derby, Gr.1), Dissident, Egg Tart, Amphitrite, Lucky Bubbles, Ringerdingding, Bring Me the Maid, Sesar, Sedanzer, Gold Standard, Seaburge, She Brings Joy, Catch a Fire, Hattori Hanzo - Let Us Win (H.K.), Believe Yourself, Ulmann, Violate, Thurlow, Master Ash, Art Series, Broadband, Miss Admiration, etc.

1st dam

Pagan Princess, by Bite the Bullet. 2 wins at 1400m, 1600m, A$148,860, AJC Rosebery H., Maroubra H., 2d AJC Aspiration H., L, STC Epona S., L, AJC John Vouris H., STC Family Fun Day on Saturday H., 3d AJC Friends of Royal Randwick H., STC Theraces.com.au H., Freeway Republic Beer H., 4th ATC Wiggle H., L. This is her fifth foal. Her fourth foal is a 2YO. Dam of two foals to race-

Dalmatia Prince (g. by Denman). 7 wins from 1250m to 1900m, A$200,150, to 2018-19, ATC TAB Rewards H.-twice, 2d ATC McGrath Estate Agents NSW H., 3d ATC TAB Highway H., Turf Club H.

Pagan Craft (f. by Starcraft). Placed in 2017-18 in Aust.

2nd dam

ANNUNAKI, by Air de France. 2 wins at 1200m, 1400m in Aust. Dam of 9 named foals, all raced, 7 winners, inc:-

Pagan Princess (Bite the Bullet). 2 wins. See above.

Druid. 8 wins from 1200m to 1600m, A$176,800, ATC Canterbury Park H., STC Rosehill Events Centre H., 2d AJC Freedom 2YO H., 3d ATC Plasterboard Building Centre H., Blackwoods New Catalogue H., AJC Randwick Betting Auditorium H., STC Jacob's Creek Sparkling H., Freeway Hotel Fridays H.

Pelagia. 4 wins from 1200m to 1600m to 2018-19, TTC Teagan Voorham H., TRC Canteen Vase H., Tasbred Bonus Scheme P., 2d TTC Anzac Eve Race Meeting H., TRC Australian Navy H., 3d TTC Book Your Xmas Function H., Scott Brunton H.

Precocious Ness. 3 wins from 1200m to 2000m, 2d MRC Wafex Sovereign H.

Ratler. 3 wins at 1400m, 1600m to 2018-19 in Aust.

Breathing Fire. Winner at 1400m in Aust.

Puff. Winner at 1750m in Aust.

Air de Cat. Placed at 2 in Aust.

3rd dam

MAVIS EDITH, by Best Western. Raced once. Sister to Hate to Lose (dam of LEGAL BRIEF). Dam of 10 named foals, all raced, 6 winners, inc:-

Polar North. 5 wins-2 at 2-from 1400m to 1600m, AJC Te Poi 2YO H., 3d STC Merrylands RSL Club H., AJC Surveying & Mapping 2YO H., Convention Centre H. Producer.

Voreeba. 6 wins from 1100m to 1950m, 2d AJC Menai H., Claymore 2YO H., 3d STC Petersham 2YO H., Sans Souci 2YO H. Producer.

Annunaki. 2 wins. See above.

Ashell. 2 wins at 1200m, 1300m in Aust. Producer.

Western Air. 2 wins at 1400m in Aust.

4th dam

NEPEAN NELLIE, by Gypsy Kingdom. Unraced. Three-quarter-sister to GYPSY ROGUE, half-sister to MUDDY WATER, Roguessa (dam of VOGUESSA), Vow (dam of VO ROGUE). Dam of 8 named foals, 6 to race, 2 winners, inc:-

Apache Kingdom. 12 wins to 1350m, QTC Apprentices' Cup, Sprite H., BATC Broker's Tip H., 3d QTC Gordon Williams H.

Nellie de Air. 2 wins at 1200m, 1600m, 3d BTC Giannis Restaurant H. Dam of-

Nellie Got There (Brahms). 11 wins-2 at 2-from 1200m to 1800m, A$403,910, BTC Logan Chamber of Commerce H., Qld Tatt's RC Sky Channel H., QTC Gold Choice Art Unions P., Mater Hospital H., SCTC Caloundra RSL H., Sunshine Coast H., 2d QTC Brisbane H., L, 3d WATC Detonator S., L, QTC Peter Gallagher S., L, 4th Qld Tatt's RC Recognition S., L, Ipswich Cup, L.

Rosekay Heart. 2 wins at 2, A$75,150, BTC Laser Antenna 2YO H., Roses Only 2YO H., 2d SCTC Sunshine Coast 2YO Classic. Dam of-

SALUTER (Commands). 8 wins-2 at 2-to 1400m, A$1,163,490, GCTC Magic Millions Guineas, RL, BRC Robert Bax & Associates QTIS 2YO P., Hastings Deering Caterpillar H., SCTC Hahn Super Dry 3.5 H., BRC Matthews Builders H., 2d Qld Tatt's RC WJ Healy S., Gr.3, BRC Lough Neagh S., L, SCTC Glasshouse H., L, 3d Qld Tatt's RC Mercedes-Benz S., L, BRC Gold Edition P., L, Keith Noud H., L.

Hate to Lose. Unraced. Dam of-

LEGAL BRIEF (Brief Truce). 13 wins from 1100m to 2400m, A$347,350, STC Stayers' Cup, L, Townsville Cup, Mackay Cup, QTC Penfolds H., STC A Royale H., 2d QTC Country Race Clubs Welter H., Jupiters Townsville Cup, BTC Tony Hewitt Memorial H., 3d Townsville Cup, Rockhampton Cup, BTC Beaurepaires H.