Incentives:
Spieth was a speed machine and with the speed down the dams page we think this colt will be just as speedy recently purchased from the Adelaide Magic Millions.
Spieth defeated his rivals in the Listed ATC City Tattersalls Lightning (1100m), when accounting for a quality field by two lengths, was simply something to behold.
Winning the Listed sprint in a time quicker than Deep Field, Spieth went onto to finish within a lip of winning both the Gr.1 VRC Darley Classic (1200m) and the Gr.1 VRC Lightning Stakes (1000m), both run down Flemington's famed straight course.
A complete outcross and free of Danehill blood, Spieth hails from the immediate family of Champion Sires Flying Spur, Encosta de Lago and Holy Roman Emperor, as well as fellow Gr.1 winners Charm Spirit, Erupt, I Am A Star, Russian Revolution and Hasna.
Defeating 16 individual Gr.1 winners throughout his career highlighted by Hellbent, English, Holler, Voodoo Lad, In Her Time, Astern and Terravista, Spieth was well supported with two high-quality books of mares.
His first crop yearlings selling up to $180,000 in 2021 so we think we have bought great value with this colt costing us $80k.
The colt is into his fourth week of his second pre training at Leneva Park. After another week or two of pre training he will come into our Caulfield stable (roughly around late September). The following is a video taken on September 21, 2021..
Out of the Not A Single Doubt mare Vonetta, she is a half sister to black typer performer Denmagic, a winner of over $441k in prize money. Go The Knuckle also features on the dams page.
The colt was purchased for $80,000. Ownership opportunities includes purchase price, transport from the sales, vetting (including scope, x-ray inspections and clinical exam), twelve month mortality insurance, emergency surgery cover, breaking in, agistment, pre training, photos/video, Magic Millions Race Series and GST.
For more information please email shona@pricekentracing.com.au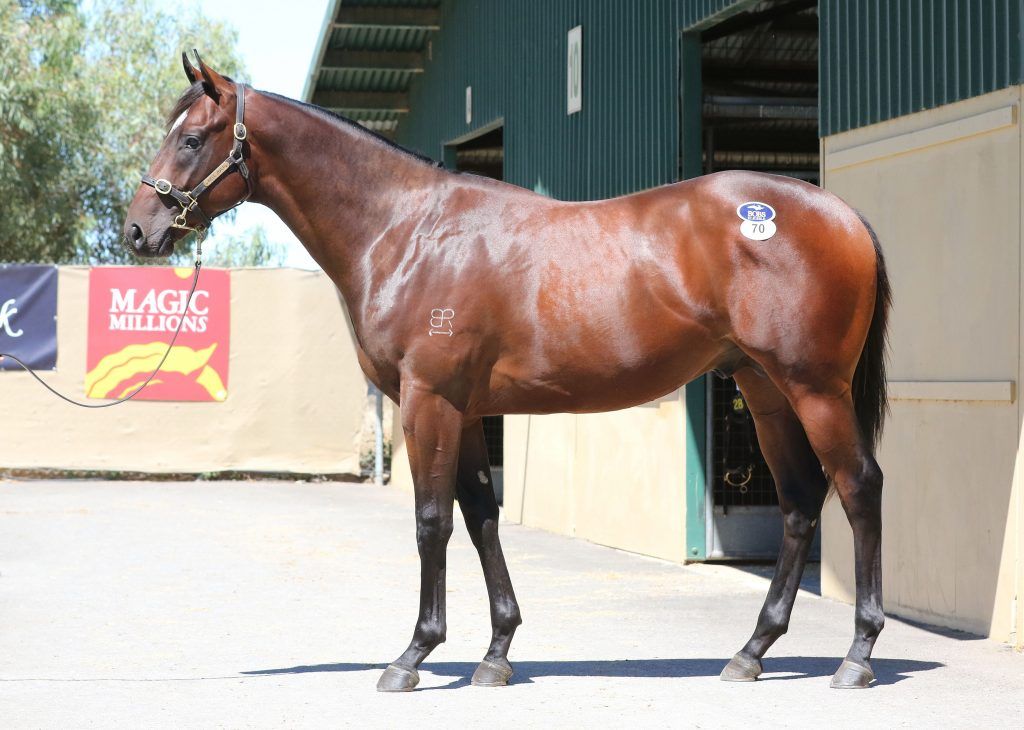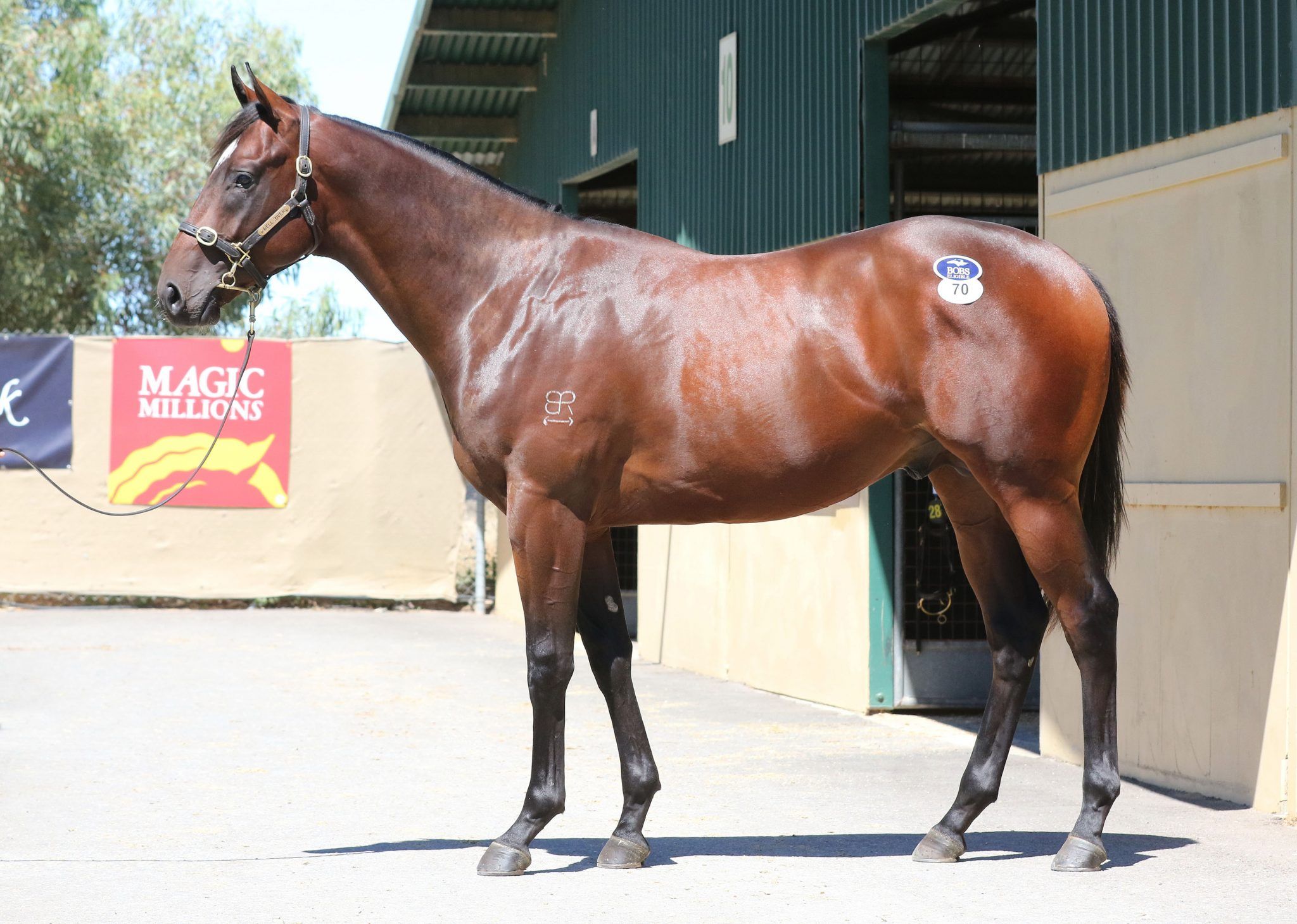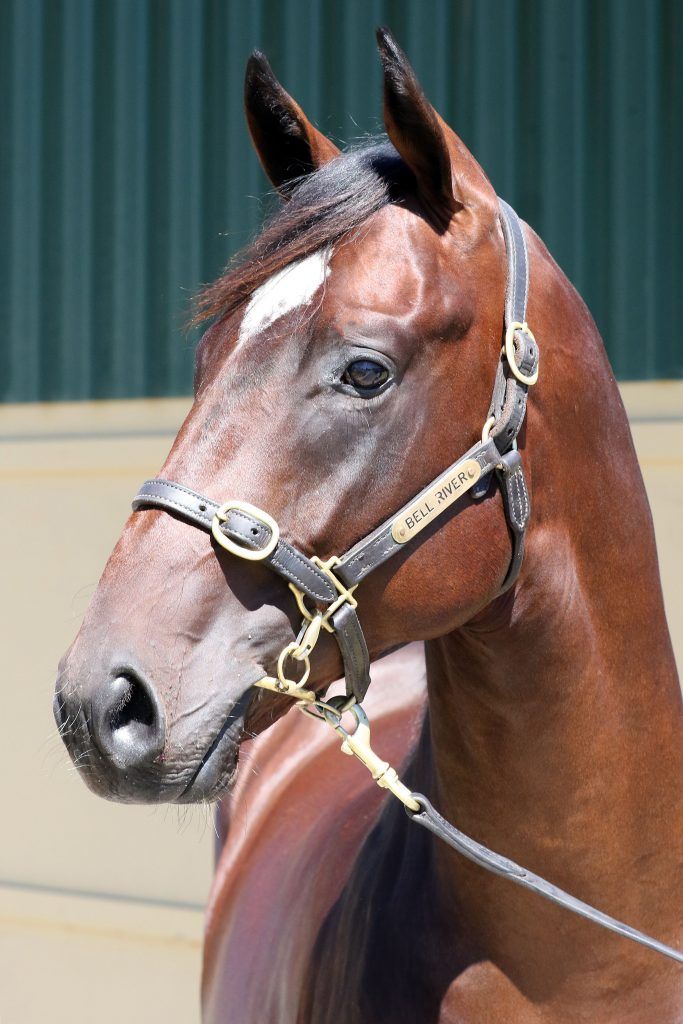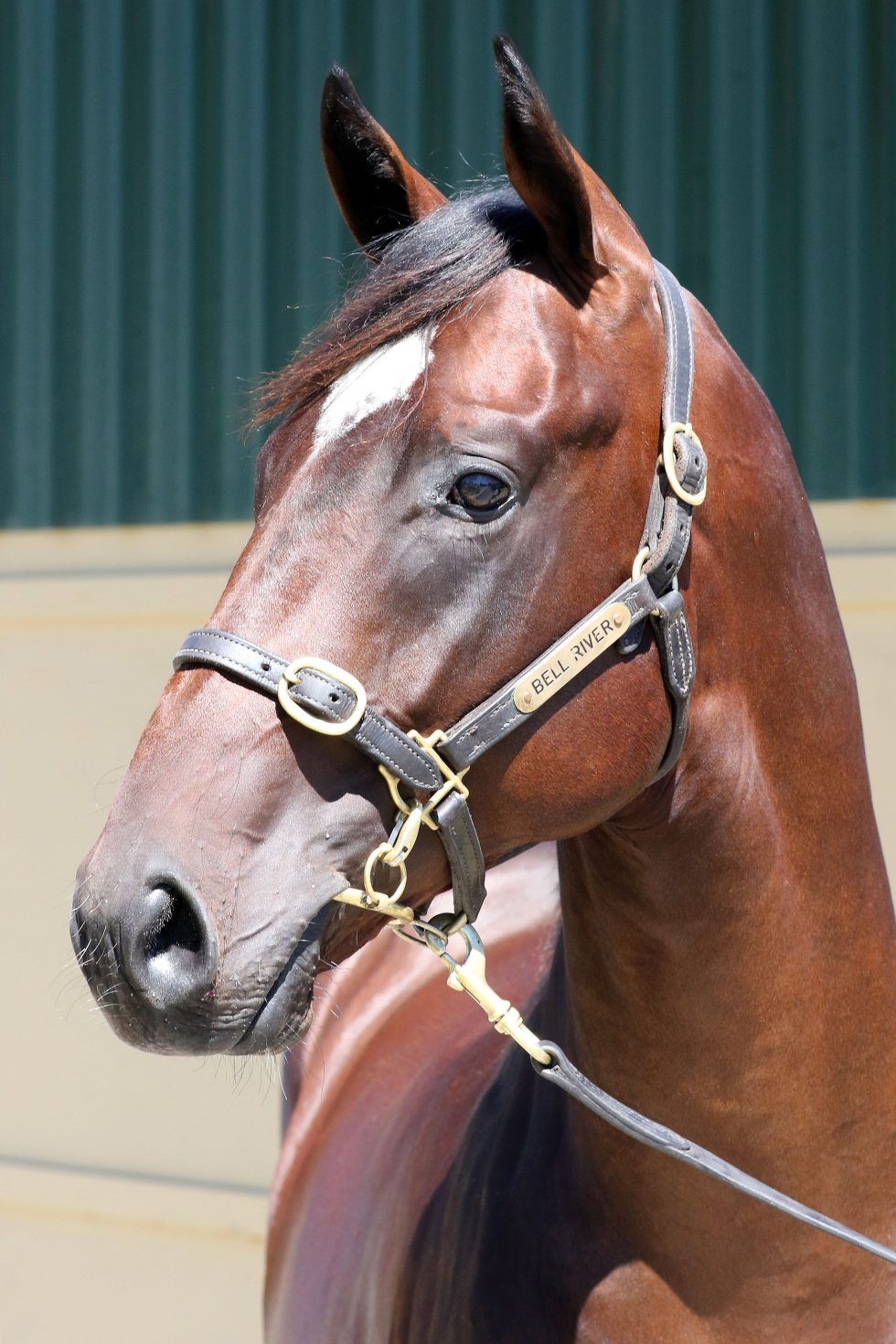 BAY COLT (AUS)

Foaled 23rd August 2019

---

| | | | |
| --- | --- | --- | --- |
| Sire | Thorn Park | Spinning World | Nureyev |
| SPIETH (NZ) | | Joy | Bluebird |
| 2012 | Stella Livia | Titus Livius | Machiavellian |
| | | Sombreffe | Polish Precedent |
| Dam | Not a Single Doubt | Redoute's Choice | Danehill |
| VONETTA (AUS) | | Singles Bar | Rory's Jester |
| 2011 | Magic Zefta | Viscount | Quest for Fame |
| | | Zefta | Zeditave |

---

SPIETH (NZ) (Chestnut 2012-Stud 2018). 5 wins at 1100m, 1200m, A$626,600, City Tatt's RC Lightning H., L, VRC Goulburn Murray H., ATC Merman & Sydeston H., 2d VRC Darley Classic, Gr.1, Lightning S., Gr.1, NSW Tatt's RC Concorde S., Gr.3, MRC Grand Hotel Frankston H. Half-brother to SW Star of the Seas (ATC Maurice McCarten H., Gr.3). Out of a half-sister to SW Ransom O'War. His oldest progeny are yearlings.

1st dam

VONETTA, by Not a Single Doubt. Placed at 2 in Aust. Half-sister to Denmagic. This is her fourth foal. Her third foal is a 2YO. Dam of one foal to race-

Yuna Mailman (g. by Denman). Placed at 3 in 2020-21 in Aust.

2nd dam

MAGIC ZEFTA, by Viscount. Placed at 3 in Aust. Half-sister to GO THE KNUCKLE, Hieroglyphics. Dam of 7 named foals, 5 to race, 3 winners, inc:-

Denmagic (Denman). 2 wins at 1200m, 1550m, A$441,045, ATC James Boags H., 2d BRC Queensland Guineas, Gr.2, Hawkesbury Guineas, Gr.3, BRC Just Now H., L, ATC Dooleys H., Chi-X Sprint H., 3d VRC Myer Classic, Gr.1, ATC Darby Munro S., L, 4th ATC Golden Pendant, Gr.2, Millie Fox S., Gr.2, VRC Matriarch S., Gr.2, MRC Tristarc S., Gr.2, ATC Sheraco S., Gr.3, BRC Bright Shadow H., L, SCTC Glasshouse H., L, Ipswich TC Gai Waterhouse Classic, L.

Club Tropicana. 3 wins at 1000m, 1100m, A$86,260, MRC United Petroleum H., 3d MVRC Slade Bloodstock H., MRC Blue Star Print Group H.

Zeftabrook. 2 wins at 2, A$170,855, in 2019-20, Wellington Boot, 3d Newcastle JC Max Lees 2YO Classic.

Vonetta. See above.

3rd dam

ZEFTA, by Zeditave. Placed at 2 & 3, 3d STC NSW Leagues Club Club P., AJC Jack Gannon P. Sister to MAGIC ALBERT, Sibyl. Dam of 12 named foals, all raced, 11 winners, inc:-

GO THE KNUCKLE (Elvstroem). 4 wins-1 at 2-to 1200m, A$434,960, SAJC Centrebet Classic, Gr.2, Hi-Tech H., Sportingbet H., MVRC Essendon Mazda 55 Second Challenge Heat H., 2d MRC Sandown S., Gr.3, MVRC Abell S., L, MRC Bel Esprit S., L, SAJC Redelva S., L, VRC Red Tempo H., MVRC Epworth Radiation Oncology H., 3d SAJC DC McKay S., Gr.3, MRC Christmas S., L, MVRC City Jeep H., MRC Mal Seccull H., SAJC Betfair 2YO H., 4th MVRC Abell S., L.

Hieroglyphics (Conatus). 4 wins at 1100m, 1200m, A$218,040, ATC St Johns Park Bowling Club H., Schweppes H., Campsie RSL H., 2d ATC Wenona Girl H., Gr.3, Inglis Premier in March H., Sledmere Stud Dash, TAB Rewards H., Bowermans Furniture H.

Zafina. 4 wins at 1200m, 1450m, A$303,535, GCTC Magic Millions Country Cup, 2d ATC Antler Luggage Kirkham 2YO P., Husson at Vinery 2YO H., Tab.com.au H., Australian Turf Club H., Schweppes H., 3d ATC Tab.com.au H., Bowermans Office Furniture H.

Malawi Gold. 3 wins at 1200m, 1400m, A$97,585, to 2020-21, BRC Lawrence & Hanson P., 2d Qld Tatt's RC 4 Pines Pacific Ale P., BRC Girls Day Out Raceday H., 3d Ballina Cup.

Zeftabaa. 3 wins at 1200m, A$121,623, MRC Ian Miller H., MVRC Microflite Helicopters P., 2d MVRC Ascend Sales Trophies H., Printhouse Graphics H., MRC Captain Gerrard at Lindsay Park H., MVRC Ready Workforce P. Producer.

Dynamic Thinker. 4 wins to 1400m to 2020-21, 3d GCTC TAB P.

Monolith Miss. 4 wins at 900m, 2d ATC Vinery Stud H., 3d ATC Snap Liverpool H. Producer.

Eternal Optimist. 2 wins at 1450m, 1600m, 2d MVRC CFMEU FFPD H. Dam of-

Hopeful Star. 3 wins from 1350m to 1650m to 2020-21, BRC Nuturf H., Caleb Trust Raceday H.

4th dam

SALLY LOU, by Salieri. 5 wins-1 at 2-from 1200m to 1600m, A$113,270, AJC DD Glasgow H., STC Buckpasser Series H., Tooheys Blue H., AJC Leslie G Rouse H., STC Harvey Norman 2YO H., 2d STC Citius Welter H., AJC Dual Quest 2YO H., Alto Artarmon H., Glenmore Meat St Vincents H., The Patrons Welter H., City Tatt's RC Tyrrells Vineyards H. Dam of 10 named foals, all raced, 7 winners, inc:-

MAGIC ALBERT (Zeditave). 7 wins-4 at 2-from 1100m to 1600m, A$471,100, STC Peter Pan S., Gr.2, Newcastle JC Spring S., Gr.3, STC Magic Millions Carnival 2YO H., Fresh Salads 2YO H., Better Choice Home Loans Welter H., AJC Ma Cherie 2YO H., STC Tooheys New Night Racing 2YO H., 2d AJC Stan Fox S., Gr.2, 3d GCTC Magic Millions 2YO Classic S., RL, 4th AJC Up & Coming S., Gr.2. Sire.

Sibyl (Zeditave). 2 wins at 1100m, 1550m, A$94,270, AJC Eastlakes H., STC Ruwald & Associates Advertising H., 2d AJC Emancipation S., Gr.2. Producer.