Owners: M J Davidson, Dr D A Worthley, K Bliesner, Peake Racing, T Kincaid, R Lang, C J Scriven, Mrs D S Summers-Newhouse, C G Taylor, A J Wilkinson, Bonbeach Coterie Group No 1, Bonbeach Coterie No. 2, Emdeejay, Flogs, Just Need Confidence & Mojito Five
Stride into the new year with this long striding filly!
As a stallion, Zoustar is flying through the universe! There is no reason why his service should not be $154,000!! That is what he stood for in the season of 2019.
Zoustar is the Reigning Champion of first and second season sire. He is the reigning Champion Australia Sire of 3YO's. In 2018, Zoustar sired a phenomenal Group One Trifecta in the Coolmore Stud Stakes at Flemington. In 2019 Zoustar's yearlings averaged over $325k with his highest price yearling selling for $1million.
In 2020, his yearling average was over $194,000. His most successful daughter would be multiple Group One winner Sunlight. On the track, Zoustar is the only horse to win the Group One Golden Rose and Coolmore Stakes double. We have this filly on offer for a cost that doesn't even cover his service fee and she's broken in, breezed up and ready to go!
Originally this filly was sold for $200,000 as a weanling at the Inglis Great Southern Sale, she was purchased purely as a horse to Breeze Up and sell. We were lucky enough to scoop her up in a sale that is predominantly a colts and gelding sale for the Asian market. We we rapt to get her at this price!
Out of the winning American Black Type mare Queen Of The Creek, a daughter of Theatrical, she was a winner over 1700m. She has had three foals to race in Australia, and all have been winners. Other Black Type names to feature down the page include stallion Big Brown and Broadway Missile.
The filly was purchased for NZ$80,000. Ownership opportunities includes purchase price, transport from the sales, NZ agistment and transport to the airport, vetting (including scope, x-ray inspections and clinical exam), airfreight, twelve month mortality insurance, emergency surgery cover, agent fee, import fee, studbook clearance fee, Melbourne to Leneva Park transport, 1 months spelling agistment in Australia and GST.
For more information please call Shona Drechsler on 0408 427 414 or Mick Price on 0418 179 345.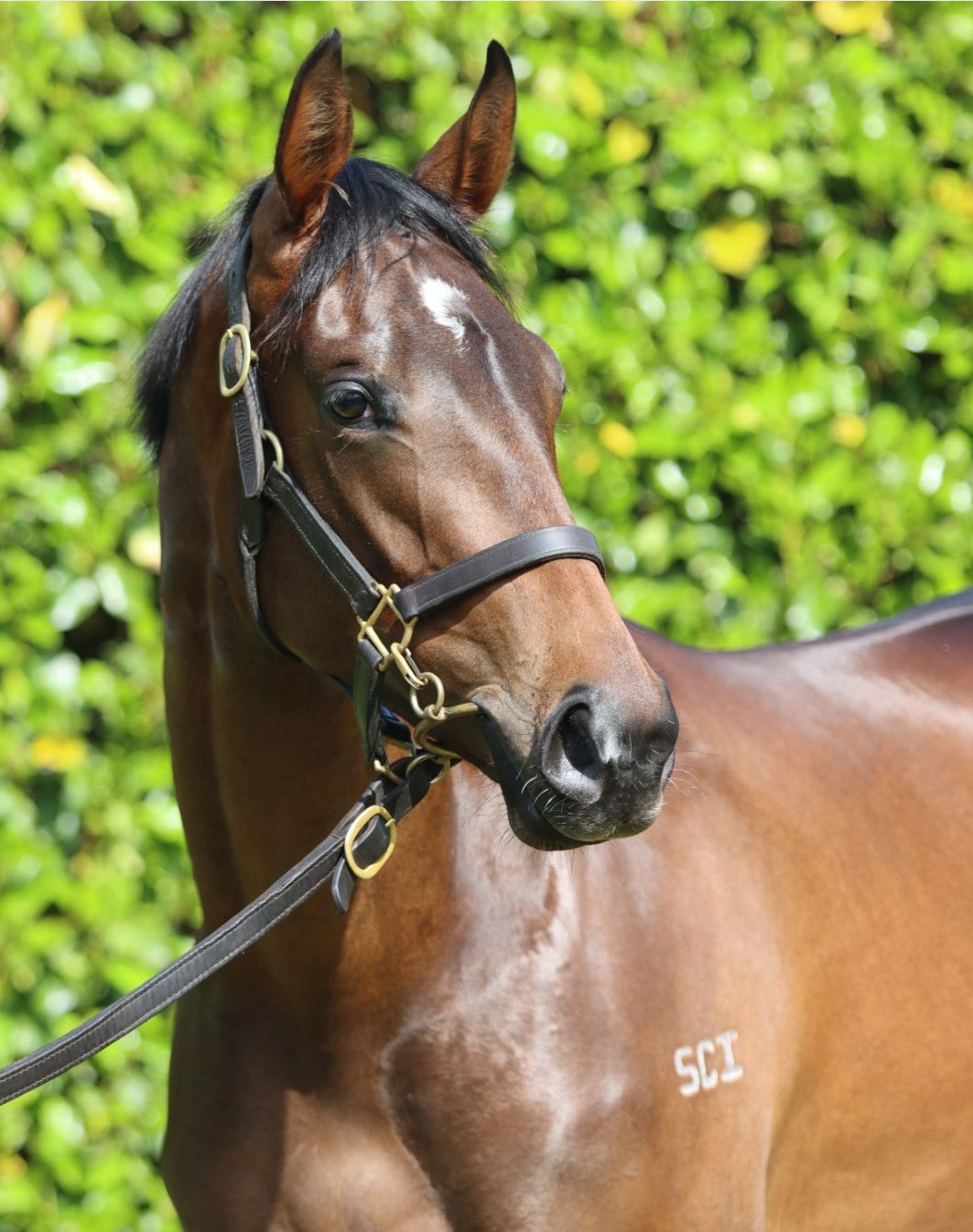 BAY OR BROWN FILLY (AUS)

Foaled 12th November 2018

---

| | | | |
| --- | --- | --- | --- |
| Sire | Northern Meteor | Encosta de Lago | Fairy King |
| ZOUSTAR (AUS) | | Explosive | Fappiano |
| 2010 | Zouzou | Redoute's Choice | Danehill |
| | | Meteor Mist | Star Shower |
| Dam | Theatrical | Nureyev | Northern Dancer |
| QUEEN OF THE CREEK (USA) | | Tree of Knowledge | Sassafras |
| 2007 | Miasma | Lear Fan | Roberto |
| | | Syrian Circle | Damascus |

---

ZOUSTAR (AUS) (Bay 2010-Stud 2014). 6 wins-3 at 2, VRC Coolmore Stud S., Gr.1. Leading First Season Sire in Aust. in 2017-18. Sire of 273 rnrs, 171 wnrs, 16 SW, inc. Sunlight (VRC Coolmore Stud S., Gr.1), Madam Rouge, Mizzy, Zoutori, Haut Brion Her, Lean Mean Machine, Zousain, Ranting, Sisstar, Sun City, Charge - Armani (Sing.), Top Knight, Indian Pacific, Persuader, Solar Star, Zoustyle, SP Barcali - Storm Warnings (H.K.), Zaniah, Zoubo, etc.

1st dam

QUEEN OF THE CREEK, by Theatrical. 4 wins-1 at 2-at 1m, 8½f, US$168,262, Saratoga Riskaverse S., L, Keeneland Allowance, 3d Arlington Park American One Thousand Guineas, L. Sister to Theatre Fan (dam of BROADWAY MISSILE), three-quarter-sister to Mien (dam of BIG BROWN, ARCHAGGELOS), half-sister to Espial (dam of SKY'S GOLDMAKER). This is her sixth foal. Dam of three foals to race, all winners-

Lord Heron (g. by All Too Hard). 3 wins at 1300m, 1600m to 2019-20, 2d Qld Tatt's RC Lazy Yak P.

Zellymay (f. by Lope de Vega). 4 wins from 1200m to 1900m to 2020-21 in Aust.

Latin Wanda (f. by Lope de Vega). Winner at 1200m in Aust.

2nd dam

Miasma, by Lear Fan. 2 wins-1 at 2-at 6f, 9f in GB and U.S.A, 2d Sandown Star S., L, 4th Newmarket Empress S., L. Half-sister to Falconet (dam of BRIGHT MAHOGANY). Dam of 13 foals, all raced, 9 winners, inc:-

QUEEN OF THE CREEK (Theatrical). 4 wins. See above.

King of the Creek. 9 wins from 1500m to 2000m in Malaysia.

Pachaquil. 3 wins-1 at 2-from 1200m to 1600m in Mexico.

Espial. 3 wins at 8½f, 9f, US$90,182, 4th Keeneland Dowager S., L, Monmouth Omnibus S., L, Turfway Park Likely Exchange S., L. Dam of-

SKY'S GOLDMAKER (Sky Mesa). 2 wins at 2, Retama Park La Senorita S., L.

Golden Tay. 3 wins-2 at 2-at 1200m, 1600m to 2020 in Russia.

Tokyo Brown. 2 wins at 13f, 1¾m in GB.

Atavism. Winner at 9f in U.S.A.

Circle Bound. Winner at 6½f in Canada.

Mien. Winner at 8½f in U.S.A. Dam of-

BIG BROWN (Boundary). Champion 3YO Colt in USA in 2008. 7 wins-1 at 2-from 1m to 1¼m, US$3,614,500, Churchill Downs Kentucky Derby, Gr.1, Pimlico Preakness S., Gr.1, Gulfstream Park Florida Derby, Gr.1, Monmouth Haskell Invitational S., Gr.1, Monmouth S., L, Gulfstream Park Allowance. Sire.

ARCHAGGELOS (Temple City). 3 wins-2 at 2-at 8½f, US$168,120, Woodbine Grey S., Gr.3, 2d Aqueduct Woodhaven S., L, 3d Delaware Park Stanton S., L, 4th Woodbine Marine S., Gr.3, Display S., L, Monmouth Presious Passion S., L.

Afonso de Sousa (Henrythenavigator). 4 wins-1 at 2-from 6f to 1½m, Leopardstown Irish Stallion Farms 2YO S., 2d Kempton Magnolia S., L, 3d York Acomb S., Gr.3, Dundalk Diamond S., Gr.3, Carlingford S., L-twice, Kempton 32red.com S., Curragh Dubai Duty Free Voyager 2YO S., Lingfield Betway H.

Misty Man. Winner at 1½m in GB.

Campy. Placed at 2 & 3 in U.S.A. Dam of-

Mamba Negra (Gio Ponti). 2 wins at 1300m, 1800m in Venezuela, 3d La Rinconada Copa Alighieri, L.

On My Toes. 5 wins from 7½f to 8½f, US$105,451 in U.S.A.

Whispering Angel. 2 wins-1 at 2-at 7½f, 8½f in U.S.A. Dam of-

WELLS BAYOU (Lookin at Lucky). 3 wins-1 at 2-from 6f to 9½f, US$860,293, to 2020, Fair Grounds Louisiana Derby, Gr.2, 2d Oaklawn Park Southwest S., Gr.3.

Theatre Fan. Unplaced. Dam of-

BROADWAY MISSILE (Heatseeker). 5 wins-2 at 2-at 1m, 8½f, US$106,629, Retama Park El Joven S., L.

3rd dam

SYRIAN CIRCLE, by Damascus. Winner at 2 in U.S.A. Half-sister to HIDDEN LAKE, GINISTRELLI, MIDWAY CIRCLE. Dam of 11 foals, 9 to race, 7 winners, inc:-

Miasma (Lear Fan). 2 wins. See above.

Falconet. Unraced. Dam of-

BRIGHT MAHOGANY (Bright Launch). 3 wins-1 at 2-at 7f, 8½f, US$121,680 in Puerto Rico, El Comandante Clasico Dia de la Mujer, L, Clasico Accion de Gracias, L, 2d El Comandante Clasico Ano Nuevo, L, 3d El Comandante Clasico Bold Forbes, L.

Hipotesis. Winner at 6f in Puerto Rico. Dam of-

PROMETIDA (Albert the Gold). Champion 2YO Filly in Puerto Rico in 2018. 9 wins-6 at 2-from 1000m to 1700m, US$184,037 in Puerto Rico, Camarero Clasico Ramon Llobet Jr, L, Clasico Criadores de Puerto Rico, L, Clasico Eugenio Maria de Hostos, L, 2d Camarero Clasico Camarero, L, 4th Camarero Clasico Antonio R Matos, L.