Incentives:
Owners: Canning Downs Stud, R A Boyd, J G Breen, M Braid, D Bruce, Mrs L J Bruhn, S W Bruhn, M J Davidson, Peake Racing, R H Greer, Mrs K D Greer, A J Harrison, D J Howarth, P Johnson, Northerly Holdings Pty Ltd, Mrs K M Walter, S L Walter, Rosemont Stud Pty Ltd & Ms C Shaw
Sired by one of our very own Group One winners, Extreme Choice, this first season sire has proven to be popular at the recent Gold Coast Magic Millions Sale. Fourteen yearlings were sold at the sale and proved to be popular with some of the most astute buyers including John Foote, John McKeever, James Harron and the Freedman Brothers.
Extreme Choice is a son of the speedy Not A Single Doubt, on the track he showed natural brilliance and this is now seen so often in his progeny including Extreme Choice. On the track Extreme Choice was rated the equal-highest Timeform-rated winner of the 2016 Blue Diamond Stakes, he won the Weight For Age Group 1 Moir defeating world champion sprinter Chautauqua. Regular jockey Craig Newitt said "He's the best 2YO I've ever ridden, and the Best 3YO too." Extreme Choice had a prize purse of over $1.7million.
Out of the dam Heart Of Thrills, she was a winner over 1200m. She is a three quarter sister to Black Type performers Gotta Have Heart and Crossyour Heart. Heart Of Thrills is not only on the track, but in the breeding barn she has also had great success. With two foals to race, both have been winners. Thrillster is Group Two placed and a Listed winner, with earnings of over $522,000. Free Thrills, is city placed and a winner over 1100m.
The colt has been broken in, spelled and pre trained at Kolora Lodge in Queensland. He is now at our Caulfield stable, he has had two gallops and will head to the gates for a practice and then spell. After his spell he will be given a training preparation with a possible view of racing as a 2YO. 
The colt was purchased for $160,000. Ownership opportunities in the colt includes purchase price and GST, breaking in expenses, transport from the sales, vetting (including scope, x-ray inspections and clinical exam), twelve month mortality insurance, emergency surgery cover, agistment, Magic Millions Race Series and photographs/video of the horse.
Due to buyer default there is only 5% available in this horse.
For further information please email shona@pricekentracing.com.au or call Shona Drechsler on 0408 427 414 or Mick Price on 0418 179 345.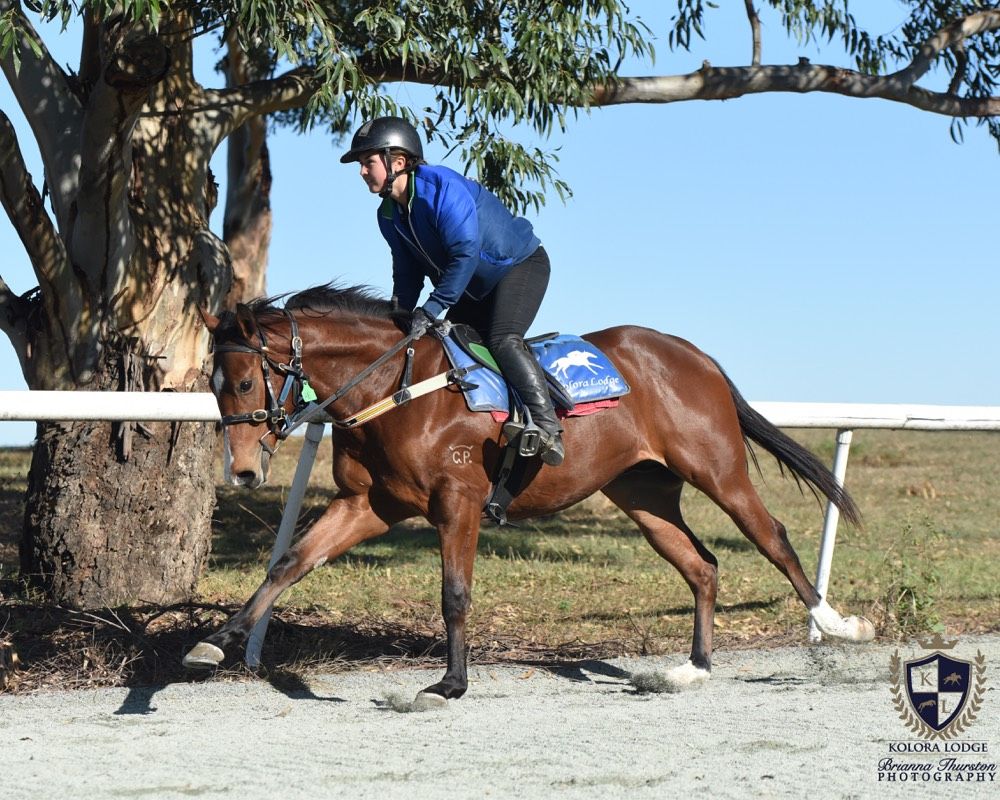 BAY COLT (AUS)

Foaled 11th October 2018

---

| | | | |
| --- | --- | --- | --- |
| Sire | Not a Single Doubt | Redoute's Choice | Danehill |
| EXTREME CHOICE (AUS) | | Singles Bar | Rory's Jester |
| 2013 | Extremely | Hussonet | Mr. Prospector |
| | | Going to Extremes | Nasty and Bold |
| Dam | Show a Heart | Brave Warrior | Cossack Warrior |
| HEART OF THRILLS (AUS) | | Miss Sandman | Regal Advice |
| 2009 | Lady Thrills | Danewin | Danehill |
| | | Soleil Rouge | Red Tempo |

---

EXTREME CHOICE (AUS) (Chestnut 2013-Stud 2017). 4 wins-3 at 2-at 1000m, 1200m, A$1,736,250, MRC Blue Diamond S., Gr.1, MVRC AJ Moir S., Gr.1, MRC Chairman's S., Gr.3, ATC Inglis Nursery, RL, 3d MRC Oakleigh P., Gr.1. Brother to SP Raise No Doubt (3d Singapore TC Garden City Trophy, L). Grandson of SW Going to Extremes (Woodbine Royal North H., L). Same family as SW Fleet Shoe, SW Eastern Rise, etc. His oldest progeny are yearlings.

1st dam

HEART OF THRILLS, by Show a Heart. Winner at 1200m in Aust. Three-quarter-sister to GOTTA HAVE HEART, CROSSYOURHEART (dam of SWEAR). This is her fourth live foal. Her third foal is a 2YO. Dam of two foals to race, both winners-

THRILLSTER (f. by Starspangledbanner). 3 wins-2 at 2-at 1000m, 1200m, A$522,500, to 2018-19, MVRC Atlantic Jewel S., L, MRC 2YO VOBIS Sires S., Bendigo JC Jayco Vobis Gold Rush 2YO P., 2d MRC Thousand Guineas Prelude, Gr.2, MVRC Valley Pearl, L, MRC Geoff Murphy H., 3d MRC Quezette S., Gr.3.

Free Thrills (f. by Unencumbered). Winner at 1100m, A$106,690, in 2019-20, 2d Ballarat TC Pipe Pro Directional Drilling H., 3d MVRC Valley Pearl S., L.

2nd dam

LADY THRILLS, by Danewin. Unraced. Half-sister to Regal Thrills, Red Covet (dam of ADALINE), Red Century (dam of GOTTA HAVE HEART, CROSSYOURHEART), Red Slippers (dam of ALL THRILLS TOO). Dam of 5 named foals, 4 to race, 3 winners, inc:-

Betty's Thrills. 3 wins from 1200m to 2000m to 2018-19 in Aust.

3rd dam

SOLEIL ROUGE, by Red Tempo. 7 wins-2 at 2-from 1200m to 1900m, NZ$163,330, ARC Great Northern Challenge S., Gr.2, Rotorua Challenge S., Gr.3, Counties RC King Gerrard 3YO S., Avondale JC Whitecliffs Sawmilling Juvenile S., 2d ARC Guineas Trial, L, Haunui Farm S., L, NZI Insurance H., Matamata RC Fayette Park H., Thompson Marks & Ewen Veterinary H., 3d ARC Ladies Mile, Gr.3, Royal S., Gr.3, Counties RC Auckland Thoroughbred Breeders' S., Gr.3, Rotorua S., L, Avondale JC Ciba-Geigy Sprint H., Waikato RC Presidents H., Matamata RC Majestic Horse Floats H., 4th WRC Desert Gold S., Gr.2, BOP RC Tauranga Classic, L. Half-sister to BLACK SUN, Katie O'Neill (dam of SHE WILL BE LOVED), Soleil Etoile (dam of SILKY RED BOXER). Dam of 8 foals, 3 to race, all winners, inc:-

Regal Thrills (Royal Academy). 4 wins from 1000m to 1600m, SAJC Christies Beach Hotel H., MVRC TROA H., SAJC Crawford & Co H., HKJC Wan Chai H., 2d STC Darby Munro S., L, VRC Grandera at Darley Sprint H., 4th SAJC Penny Edition S., L. Dam of-

Iffragal (Iffraaj). Winner at 1100m, 2d Singapore TC Juvenile Championship, L, Waikato RC Wentwood Grange 2YO S., Singapore TC Phumelela Gaming & Leisure Ltd Trophy, Class 4 H., 3d Singapore TC Inglis Ready2race S.

Red Covet. Winner at 1400m, VRC Rainburst H., 3d MVRC Dominant Chemicals H. Dam of-

ADALINE (Court of Jewels). 4 wins from 1400m to 2000m, NZ$162,025, ARC Royal S., Gr.2, Avondale JC Sporty's Bar & Cafe New Plymouth H., Waikato RC Lawrenson Group H., 2d ARC New Zealand S., Gr.1, Eight Carat Classic, Gr.2, 3d ARC Gucci Mile H. Producer.

Red Century. Unraced. Dam of-

GOTTA HAVE HEART (Show a Heart). 7 wins to 1550m, A$312,805, MRC Sandown S., Gr.3, Victoria H., Gr.3, VRC Grand Scale H., MVRC Dr LeWinn's Ladies Championship H., 2d VRC Chubb P., L, 4th MVRC Norman Carlyon S., Gr.2, AJC Tramway H., Gr.3, MRC TS Carlyon Cup, Gr.3.

CROSSYOURHEART (Show a Heart). Top filly on the 2006-07 NZ 2YO Free H. 6 wins-4 at 2-to 1200m, NZ$358,475, Waikato RC New Zealand Bloodstock Classique, RL, Counties Challenge S., L, ARC Fully Fledged H., Karaka Million 2YO H., Waikato RC Esker Lodge Juvenile S., 2d Counties Bowl, L. Dam of-

SWEAR (Redoute's Choice). 2 wins-1 at 2-at 1300m, 1400m, A$309,100, NSW Tatt's RC Ming Dynasty H., Gr.3, Hawkesbury RC Claret 2YO S., 2d ATC Spring Champion S., Gr.1.

Red Slippers. Unraced. Dam of-

ALL THRILLS TOO (St Covet). 8 wins at 1000m, 1200m, HK$16,934,500, Hong Kong Sprint, Gr.1, HKJC International Sprint Trial H., L, National Panasonic Cup H., Sprint Trial Trophy H., Banyan H., Huizhou H., Washington DC H., Po Yan H., 2d HKJC Centenary Sprint Cup, L, Chairman's Sprint Prize, L, 3d Hong Kong Sprint, Gr.2, HKJC Bauhinia Sprint Trophy, L, Centenary Sprint Cup, L, Juvenile Sprint Trophy, L, 4th HKJC Chairman's Sprint Prize, L, Queen's Silver Jubilee Cup, L.

Joint Chiefs (General Nediym). 9 wins to 1350m, A$336,100, BRC Stanton Mienert Business Valuation H., Iceworks H., 2d BRC Chief de Beers H., L, Ascot H., L, 3d BRC QTC Cup, Gr.2.