Incentives:
Owners: Sheamus Mills Bloodstock P/L (Mgr: S A Mills), Pendant Equine (Mgr: F J Frost), M J Davidson, Dr D A Worthley, Mrs S M Worthley, A W Bruhn, S W Bruhn, Mrs L J Bruhn, R J Fleetwood, T Mitchell, T C Miller, L A D D Racing (Mgr: A Leslie) & G Dunstan
The yearling filly is by first season sire Vancouver, who was the undefeated Champion 2yo of his year. As a juvenile Vancouver had 4 starts for 4 wins including the Listed Breeders Plate, Group 3 Canonbury Stakes, Group 2 Todman Stakes and most importantly the Group 1 Golden Slipper. Vancouver is off to a flying start with his first crop of yearlings. Many leading stables have purchased his progeny and they realised up to $400,000 at the recent Magic Millions yearling auction.
Our filly is impeccably bred being out of the Stakes winning Pins mare Raid, the winner of 5 races and Group 1 placed in the ARC Diamond Stakes as a juvenile. Raid has produced 3 horses to run for 3 winners including Mujallad who is a three-time winner and Group 3 placed, Tarismo a five-time winner and listed place and Missandei a three-time winner this season. Raid is a half-sister to Listed placed and multiple metropolitan winner Cruising Speed and Purely Spectacular the dam of dual Group winner Stratum Star. This is the brilliant family that includes Group 1 winners Emancipation, Railings and Virage De Fortune.
The Vancouver x Raid filly was purchased for $160,000 at the Magic Millions yearling sale.
This filly has completed her breaking in and education and is currently spelling. She is due to come back into work around May 20.
Ownership opportunities include purchase price and GST, all vet checks, transport from sale, breaking in expenses, Magic Millions race series entry and 12 months mortality insurance.
For further information feel free to call Shona Drechsler on 0408 427 414 or Mick Price on 03 9572 0333.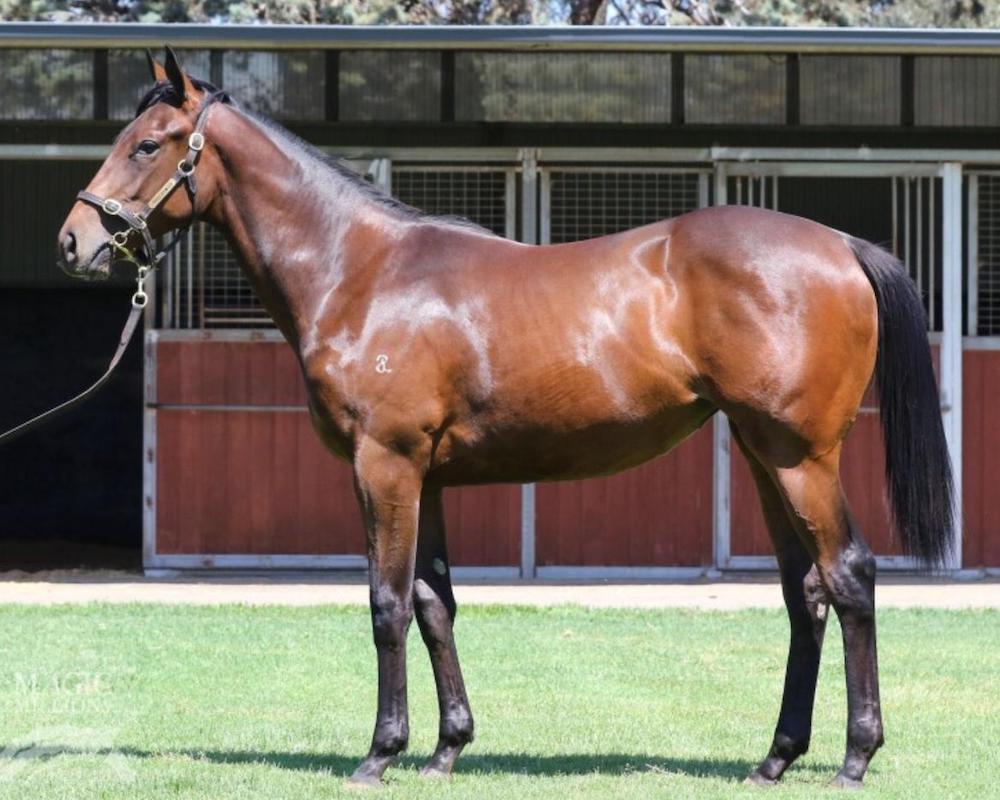 "I was hoping I could come away from the sale with a Vancouver, and this is one that has physical scope and quality, and also only two dams on the page. It's full of Black Type. Stratum Star sits in the second dam, its a young pedigree. A beautiful filly, she is well balanced with a good head carriage. She may make a two-year-old but she has good physical scope to train on…" Mick Price.
BAY FILLY (AUS)

Foaled 26th August 2017

---

| | | | |
| --- | --- | --- | --- |
| Sire | Medaglia d'Oro | El Prado | Sadler's Wells |
| VANCOUVER (AUS) | | Cappucino Bay | Bailjumper |
| 2012 | Skates | Danehill | Danzig |
| | | Skating | At Talaq |
| Dam | Pins | Snippets | Lunchtime |
| RAID (NZ) | | No Finer | Kaoru Star |
| 2005 | Vanilla Sky | O'Reilly | Last Tycoon |
| | | Principation | Prince Echo |

---

VANCOUVER (AUS) (Bay 2012-Stud Aust. 2016, U.S.A. 2017). Champion 2YO Colt in Australia in 2014-15. 4 wins at 2, A$2,368,250, ATC Golden Slipper S., Gr.1, Todman S., Gr.2, Canonbury S., Gr.3, Breeders' P., L, 4th ATC San Domenico S., Gr.3. Half-brother to SW Juste Momente (SAJC Robert Sangster S., Gr.1), SW Captain Coltish (VRC Chubb S., L) and the dam of SP Newlands. Out of SP Skates. Grandson of SW Skating. His oldest progeny are yearlings.

1st dam

RAID, by Pins. 5 wins-1 at 2-at 1150m, 1200m, NZ$263,560, Rotorua RC Lion Red P., L, ARC Bidvest Foodservice 3YO H., Countdown to Karaka Million 2YO H., Waikato RC Crombie Lockwood H., 2d ARC Diamond S., Gr.1, Avondale JC Integrated Print Solutions H., BOP RC Morton Estate Sparkling H., Waikato RC Legacy Lodge 3YO H., Esker Lodge Juvenile S., 3d Matamata Breeders' S., Gr.2, ARC Karaka Million, RL, 4th ARC Soliloquy S., L, Counties Bowl, L. Sister to Purely Spectacular (dam of STRATUM STAR), three-quarter-sister to Pinstripe Lane, half-sister to Cruising Speed. This is her fifth live foal. Her fourth foal is a 2YO. Dam of three foals to race, all winners-

Mujallad (c. by Redoute's Choice). 3 wins-2 at 2-to 1400m, R283,828, to 2017-18, Turffontein WSB July in Jozi Juvenile P., Book for Classic Day in April H., Book for Met in Jozi in Jan Juvenile P., 3d Turffontein Spring Spree S., Gr.3, Vaal Meet the Celebrities S., 4th Scottsville Godolphin Barb S., Gr.3.

Tarismo - Chromium Alloy (Mac.) (g. by Testa Rossa). 5 wins at 1200m, 1500m to 2018-19 in Aust. and Macau, 2d Macau Lisboa Challenge Final, L, ATC TAB Early Quaddie P., Mossman at Vinery H., 3d Macau Grand Lisboa Palace Cup.

Missandei (f. by Helmet). 3 wins at 1000m to 2018-19 in Aust.

2nd dam

VANILLA SKY, by O'Reilly. 2 wins at 1100m, 1200m in NZ. Half-sister to Masterful Lad, Hamlets Ghost - Jackpot Delight (H.K.). Dam of 10 named foals, 6 to race, 5 winners, inc:-

RAID (Pins). 5 wins. See above.

Cruising Speed (Savabeel). 5 wins to 1400m, A$142,100, BRC Mulcahy Plumbing H., Qld Tatt's RC Stav, Abby & Matt With Osher's P., Tattersall's P., BRC Moet & Chandon Chairman's H., Sky Thoroughbred Central H., 2d Qld Tatt's RC Tattersall's Mile H., L, GCTC Neca Electrical Apprenticeship P., 3d VRC Owner.racing.com H., 4th Qld Tatt's RC Memorial Classic, L.

Lapel. 8 wins from 1050m to 1600m, A$153,135, SAJC Renniks Events H., Yalumba H., Recruitco H., Tooheys New H., 2d SAJC Allan Scott Park Morphettville H., Allan Scott Park Morphettville Flying H., Cleanevent H., Oakbank RC Carlton Draught H., 3d BRC Founding Fathers P., Emporium Hotel H., SAJC Tooheys New H., Spring Gully H., Tulloch H., Mortgage Force 131497 H.

Panna Cotta. 3 wins at 1200m, 1400m, ARC Auckland Co-Op Taxis H.

Purely Spectacular. Placed at 2, 2d MVRC Inglis Series 2YO P. Dam of-

STRATUM STAR (Stratum). 8 wins from 1300m to 2200m, A$2,450,460, MRC Sir Rupert Clarke S., Gr.1, WATC Kingston Town Classic, Gr.1, MRC Peter Young S., Gr.2, David Jones Cup, Gr.3, VRC Poseidon S., L, MRC Gothic S., L, GCTC Magic Millions Trophy H., 2d MRC Futurity S., Gr.1, Sandown Guineas, Gr.2, MVRC Alister Clark S., Gr.2, VRC Carbine Club S., Gr.3, MRC Sandown S., Gr.3, William Hill P., 3d VRC Australian Guineas, Gr.1, MRC Toorak H., Gr.1, Memsie S., Gr.1, VRC Blamey S., Gr.2, BRC QTC Cup, Gr.2, VRC CS Hayes S., Gr.3, SCTC Glasshouse H., L, MRC Schweppes H., 4th VRC Australian Cup, Gr.1.

Serenade (Star Witness). 2 wins-1 at 2-at 1200m, A$197,400, ATC Happy Australia Day 2YO H., 2d BRC Bright Shadow H., L, 3d MVRC Champagne S., Gr.3, ATC Inglis 2YO Classic, RL, SAJC HC Nitschke S., L, 4th ATC Magic Night S., Gr.2.

3rd dam

PRINCIPATION, by Prince Echo. Winner at 1100m, 2d STC Shading 2YO H., 3d STC Harbord 2YO H., 4th VRC Piaget H., L. Half-sister to ROYAL PARDON, Animation (dam of MAGNETO), Virage (dam of VIRAGE DE FORTUNE, AVENUE), La Suffragette (dam of RAILINGS). Dam of 10 foals, all winners, inc:-

Masterful Lad (Masterclass). 10 wins from 1200m to 2850m, A$175,878, Tamworth Cup, AJC Diamond Jubilee H., STC Members' H., Forest Lodge H., 2d MRC Second Wind H., 3d Ipswich Cup, Gr.3.

Hamlets Ghost - Jackpot Delight (H.K.) (Danasinga). 7 wins from 1200m to 1600m, NZ$37,425, HK$8,576,250, HKJC Sha Tin Mile Trophy H., ARC Jungle Pocket 3YO H., 2d HKJC Chairman's Trophy, L, Mercedes-Benz Hong Kong Derby, L, 3d HKJC Cathay Pacific International Cup Trial, L, Jebsen Centenary Vase, L.

Singasong. Winner at 2100m, 2d ARC Dunstan Feeds Championship Qualifier, Speights H. Dam of-

Pinstripe Lane (Pins). 2 wins at 1900m, 2050m, A$250,120, ATC Rexel H., 2d Queensland Derby, Gr.1, BRC Grand Prix S., Gr.3, 3d MVRC Mitchelton Wines Vase, Gr.2.