Incentives:
Owners: The Cake, Snippets Racing No 4, R Clerk, V Dimitriadis, Donald St Girls, R Henriksen, G O'Meara, Tang Racing, Mrs N Stuart, A Stoney, P Armstrong, Ms A Meredith, Mrs Giannuzzi, J McCartney, M Lewis, S Major, B Cox, Mrs T Anderson, B Cocks & R Goldbloom
Shalaa was a dominant sprinting 2YO star by sire of sires Invincible Spirit. An international superstar and now the sire of 12 winners including three stakes performers from his first European crop. Shalaa's first Australian  2YOs race this season and already include 2YO Gold Coast Magic Millions and Gr3 Breeders Plate winner Shaquero, Tayla's Moment who placed 2nd in the Gr3 Blue Diamond Preview, and Nice For What who placed 2nd in the Gr3 Ottawa Stakes at Flemington. For his first season runners in Australia this stallion is making his mark early.
Considering the stallions race results, we were thrilled to purchase this filly for only $220,000 and think we have got in early before there is a boom on this sires progeny.
Out of the Lonhro mare, she is a dam of 2 foals to race and both are winners. We would consider this yearling by Shalaa a significant stallion upgrade to her previous progeny and we are excited to see her get on the track.
Costs include purchase price, vetting (x-rays and scope), Inglis Race Series, 12 months insurance, Transport (Sydney to Wangaratta, breaking in, one months agistment, photos/video and GST.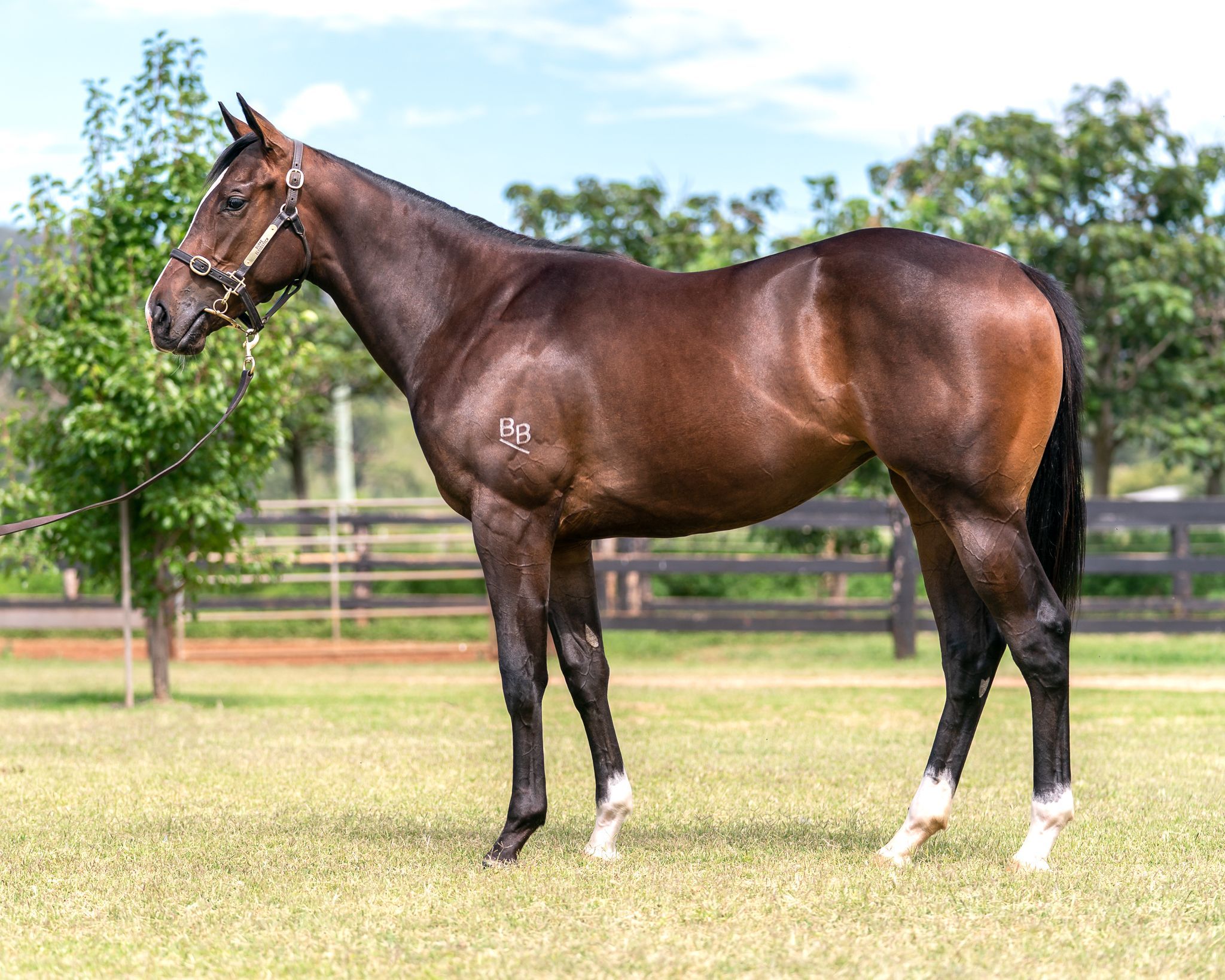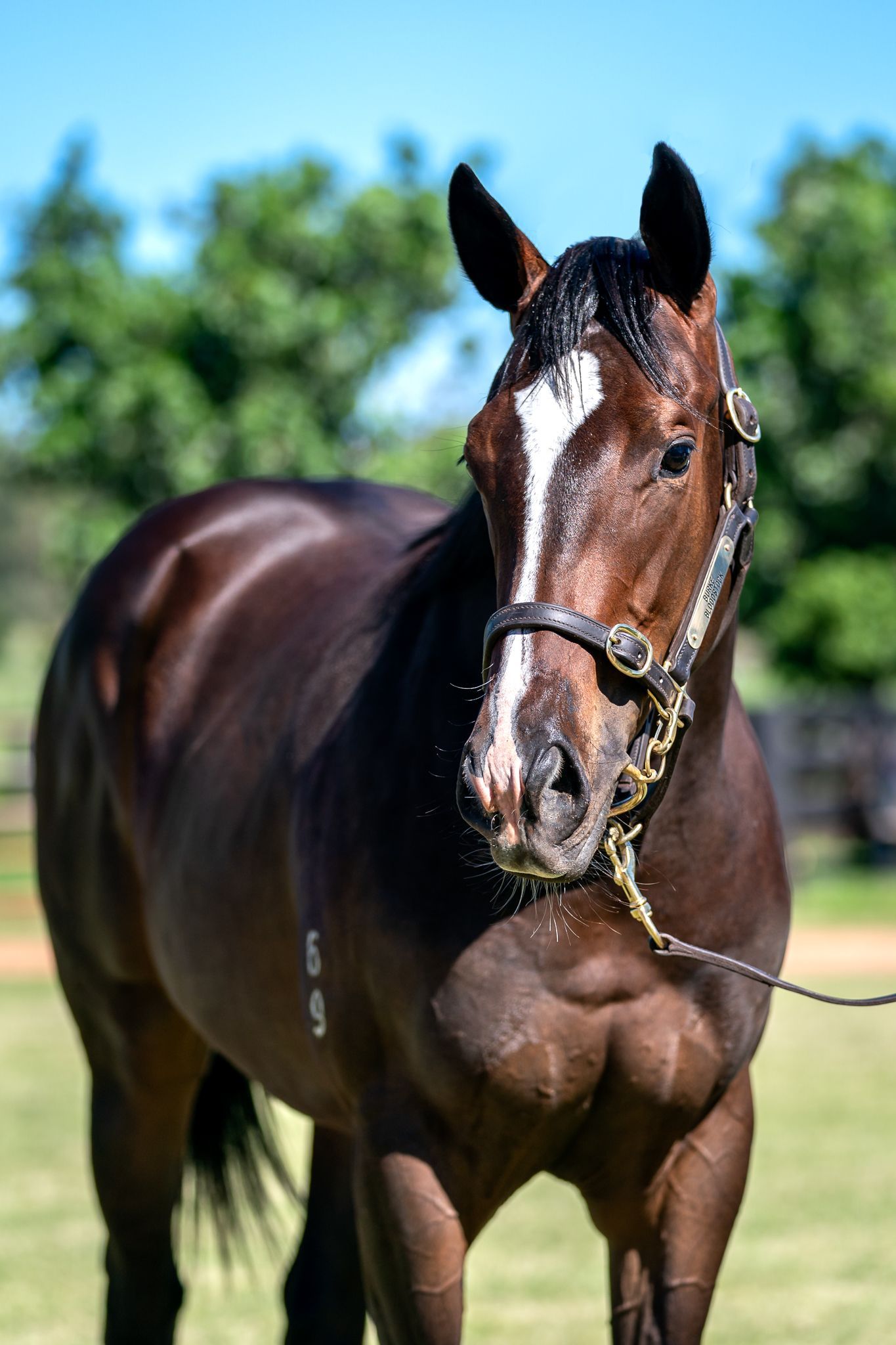 BAY FILLY (AUS)

Foaled 8th September 2019

---

| | | | |
| --- | --- | --- | --- |
| Sire | Invincible Spirit | Green Desert | Danzig |
| SHALAA (IRE) | | Rafha | Kris |
| 2013 | Ghurra | War Chant | Danzig |
| | | Futuh | Diesis |
| Dam | Lonhro | Octagonal | Zabeel |
| TRANSOCEAN (AUS) | | Shadea | Straight Strike |
| 2011 | Boat Quay | Belong to Me | Danzig |
| | | Speedy Bell | Brocco |

---

SHALAA (IRE) (Bay 2013-Stud France 2017, Aust. 2017). 6 wins-5 at 2-at 6f, Newmarket Middle Park S., Gr.1. Out of a half-sister to SW Hayil. Sire of , SP Legal Attack, No Speak Alexander, Saeiqa and of My Swallow, Cherie Amour, Hitoyogiri, Longlai, Noman, Shalaa Asker, King Shalaa, Pockley, Zhelqyran, etc. His oldest Aust.-bred progeny are 2YOs and inc SW Shaquero (ATC Breeders' P., Gr.3), SP Nice for What, Tayla's Moment and of Saasmit and of the placegetters Hunnam, Shajaea, etc.

1st dam

TRANSOCEAN, by Lonhro. Unraced. This is her fourth foal. Her third foal is a 2YO. Dam of two foals to race, both winners-

Sea Maher (g. by Al Maher). Winner at 1300m in 2019-20, WATC Belmont Park P.

Bullet Storm (g. by Sizzling). 3 wins to 1500m to 2020-21 in Aust.

2nd dam

BOAT QUAY, by Belong to Me. 3 wins to 1450m, MVRC Connex Plus H., SAJC Australian Manufacturing Workers Union P., Scott Group of Companies H., 3d SAJC Sealink Travel Group H., VRC Sunday Herald Sun P., SAJC Distinctive Homes H. Half-sister to SILVERSTREAM, SPEEDY NATALIE (dam of SWEET AND SPEEDY), CALANDA. Dam of 7 named foals, 6 to race, 3 winners, inc:-

Kirinia. 3 wins-2 at 2-at 1000m, 1050m, A$83,400, to 2020-21, SAJC TAB H., 2d SAJC Holdfast Insurance 2YO H., Antonio and Elisabeth H., 4th SAJC Cinderella S., L.

Super Denman. 3 wins at 1100m, 1200m, Singapore TC Class 4 H.-twice, 2d Singapore TC Class 4 H.-twice, 3d Singapore TC Stepitup S., Class 4 H.

I'm Chauncey. Winner at 1000m in Aust.

Princess Raffles. Placed at 2 in 2020-21 in Aust.

Our Toninicconi. Placed at 2 & 3, 3d Ballarat TC Magic Millions 2YO Clockwise Classic.

Robertson Quay. Placed at 2 & 3, 2d Ipswich TC Schweppes P.

3rd dam

SPEEDY BELL, by Brocco. Winner at 2, AJC Gimcrack S., L, 2d STC Winfreux 3YO Quality H., 3d STC Heritage S., L. Half-sister to WHOEVER, Stratford, Superforce. Dam of 11 foals, 9 to race, 8 winners, inc:-

SILVERSTREAM (Al Maher). 9 wins-1 at 2-to 1400m, A$709,400, WATC Lee Steere S., Gr.2, AJ Scahill S., Gr.3, Northerly S., Gr.3, Jungle Dawn Classic, L, Westpeed Nursery H., Seacorp H., Tabtouch H., Merrywell H., Variety at the Races H., 2d WATC La Trice Classic, Gr.3, Starstruck Classic, L, RS Crawford S., L, Birthday S., L, 3d WATC Miss Andretti S., L, 4th WATC Winterbottom S., Gr.1, La Trice Classic, Gr.3.

SPEEDY NATALIE (Al Maher). 3 wins-1 at 2-from 1100m to 2000m, A$212,555, AJC Adrian Knox S., Gr.3, SAJC Dequetteville S., L, MVRC TEAC Flashback P., 2d Moonee Valley Fillies Classic, Gr.2. Dam of-

SWEET AND SPEEDY (Street Cry). 3 wins-1 at 2-at 1200m, 1400m, A$166,975, VRC Vanity S., Gr.3, MRC Ian Miller H., 3d SAJC National S., Gr.3.

CALANDA (Snitzel). 6 wins at 1100m, 1200m, A$563,825, Clarence River JC Ramornie H., L, Gosford RC Takeover Target H., L, ATC Inglis Sprint, Schweppes H., Bowermans Office H., Schweppes P., 2d BRC George Moore S., Gr.3, 3d SCTC Moreton Cup, Gr.2, ATC Membership H., 4th VRC Mss Security Sprint H., L, ATC Razor Sharp H., L.

Big Bear Rock. 4 wins to 1200m, A$110,830, VRC Nowicki Carbone H., MRC Ascend Sales & Sponsorship Consultancy H., 2d ATC Waverley H., MRC Sportingbet H.

Boat Quay. 3 wins. See above.

Simply Spectacular. Winner at 1200m in 2019-20, HKJC Morse Park H.

4th dam

CELEBRATION BELL, by True Version. 2 wins at 1200m, AJC Global Despatch H., 2d AJC CCI Insurance H., Bianco Lady H., STC North Sydney Anzac Members Club H., 3d AJC Blondies Hairdressers H. Dam of 9 named foals, 7 to race, 6 winners, inc:-

WHOEVER (Redoute's Choice). 3 wins at 1100m, 1200m, A$171,800, AJC Nivison H., L, STC Mad About the Hat Day H., 2d AJC Sapphire S., Gr.2, Challenge S., Gr.2, City Tatt's RC Lightning H., L, STC Thursday Night Racing in December H., 3d STC Theraces.com.au H. Producer.

SPEEDY BELL (Brocco). Winner. See above.

Stratford (Stratum). 4 wins at 1100m, 1200m, A$302,900, GCTC Magic Millions P., ATC Congratulations Lonhro H., NAB Corporate H., 2d ATC Rydges Bankstown H., 3d GCTC Magic Millions Cup, RL, ATC Sharp Fly H., 4th ATC Southern Cross H., Gr.3.

Superforce (Mukaddamah). 4 wins to 1200m, A$98,600, S$4,687, VRC Heron Bridge H., MVRC Le Pine Funeral Services H., Strathayr H., 2d MVRC Symphony Facial Tissues H., 3d VATC Zeditave S., L, MVRC CGU Insurance Trophy, 4th VATC Christmas H., L.