Incentives:
This colt was purchased from the Adelaide Magic Millions. Sired by Star Turn, he is a son of Star Witness.
Star Turn certainly excelled on the track as a 3yo. However in what was a year of stellar crop of colts, Star Turn drew first blood as a Spring 2yo in the Pierro Plate at Randwick before a 2nd to Flying Artie in the Blue Diamond Prelude in the Autumn. His only unplaced runs in a 12 start career were 5th and 6th in Blue Diamond and Golden Slipper respectively.
It's not surprising that he was a pre-Christmas juvenile winner given his precocious pedigree. He is by Gr1 Blue Diamond winning Star Witness, who won 3 of his 4 2yo starts and is from 5-time Stakes winning sprinter Golden Delicious.
As a 3yo Star Turn returned for a Spring campaign with a dominant victory over Golden Slipper winner Capitalist in the San Domenico Stakes Gr.3 and was then sent to Melbourne, where he produced another brilliant burst of acceleration to win the WFA Gr.2 Schillaci Stakes against older horses (Malaguerra, Fell Swoop). He signed off with a credible third in the Gr.1 Coolmore Stud Stakes. Trainer John Hawkes put the result into perspective. "Give us the winner's run and we win. Simple as that."
Out of the Lonhro broodmare Lonhrolite, it is worth mentioning the Lonhro is fast becoming a broodmare sire in Australia. He currently sits in 10th position on the top 20 of Leading Australian Broodmare Sires. Lonhrolite is out of the Black Type performing mare Spectrolite.
The colt completed his education process at John Ledger's in Wangaratta on April 14 and is now spelling. He will spell for 6 weeks before beginning pre training.
The colt was purchased for $50,000 in partnership with Suman Hedge Bloodstock. Ownership opportunities includes purchase price, transport from the sales, vetting (including scope, x-ray inspections and clinical exam), twelve month mortality insurance, emergency surgery cover, three months of agistment, photos/video, Magic Millions Race Series, Bio Data commission and GST.
For more information please email shona@pricekentracing.com.au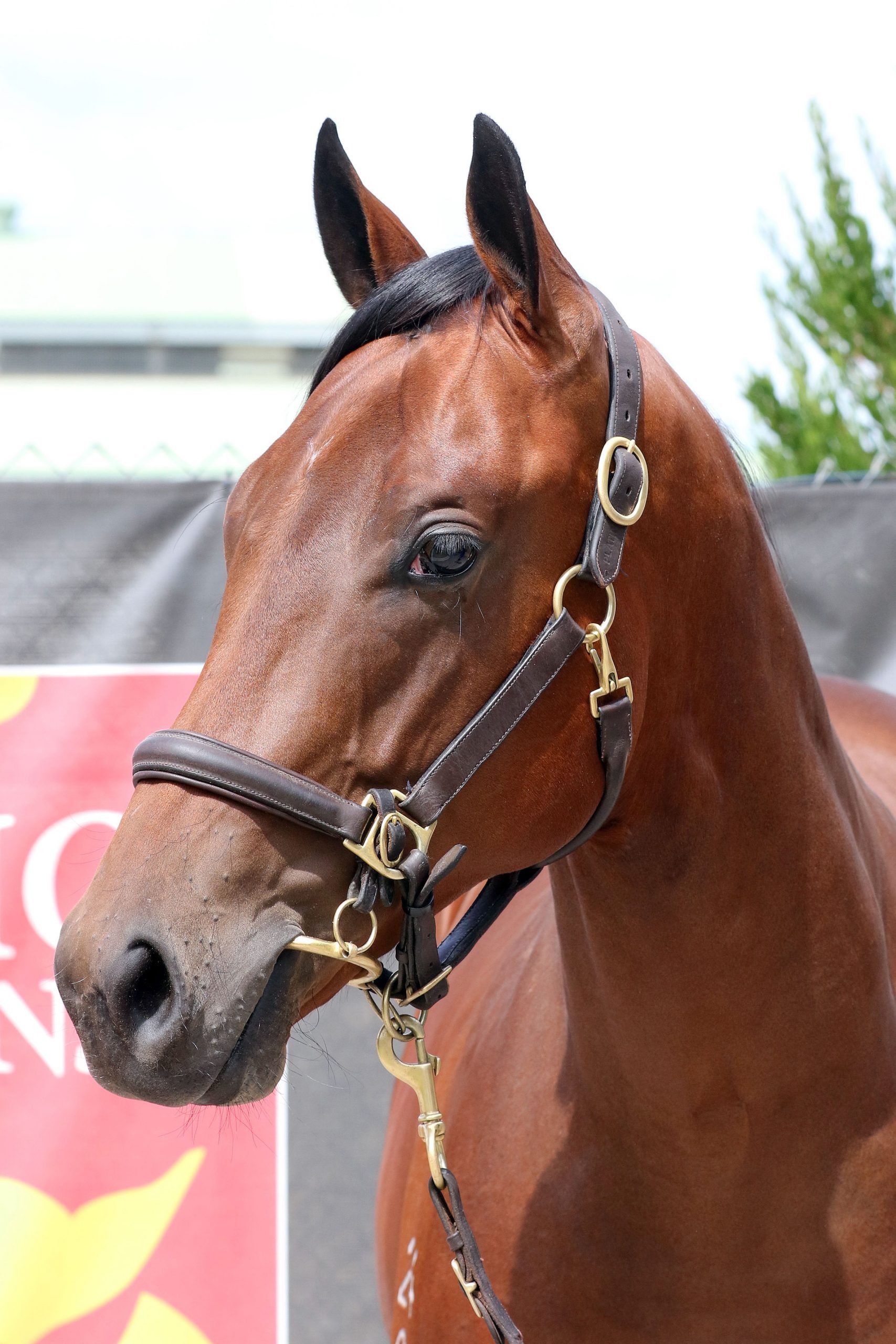 BAY COLT (AUS)

Foaled 28th September 2019

---

| | | | |
| --- | --- | --- | --- |
| Sire | Star Witness | Starcraft | Soviet Star |
| STAR TURN (AUS) | | Leone Chiara | Lion Hunter |
| 2013 | Golden Delicious | Made of Gold | Green Forest |
| | | Barossa Gourmet | Pre Emptive Strike |
| Dam | Lonhro | Octagonal | Zabeel |
| LONHROLITE (AUS) | | Shadea | Straight Strike |
| 2012 | Spectrolite | Stratum | Redoute's Choice |
| | | Canicula | Rory's Jester |

---

STAR TURN (AUS) (Chestnut 2013-Stud 2017). 3 wins-1 at 2-at 1100m, A$877,300, MRC Schillaci S., Gr.2, ATC San Domenico S., Gr.3, 3d VRC Coolmore Stud S., Gr.1, Newmarket H., Gr.1. Half-brother to SP Straight Gold. Sire of 29 rnrs, 11 wnrs, inc. SW Miss Hipstar (BRC Dalrello S., L), SP Astrologer, Pegasi, Stellar Magic and of Sonnet Star, Startantes, Cordyceps Six, Eagle Hawk Star, Impact Star, Me Me Lagarde, Mortal Witness and of the placegetters Avolonte, etc. His oldest progeny are 2YOs.

1st dam

LONHROLITE, by Lonhro. Unplaced. This is her first live foal.

2nd dam

SPECTROLITE, by Stratum. Winner at 2, VRC Ottawa S., L. Half-sister to Shih Tzou. Dam of 3 named foals, all raced, inc:-

Larapineta. Winner at 1200m, 3d ATC Theraces H.

3rd dam

CANICULA, by Rory's Jester. 3 wins at 1000m, 1100m, QTC Oppressor H., 2d VATC Dual Choice H., Rupert Greene 2YO H., 3d VATC Sigiad H. Half-sister to HITAPOTOMOSS. Dam of 11 named foals, 9 to race, 6 winners, inc:-

SPECTROLITE (Stratum). Winner. See above.

Shih Tzou (Zoustar). Placed at 2, 3d MRC Blue Diamond Preview (f), Gr.3.

Triple Crown. 2 wins-1 at 2-at 1000m, 1200m, A$105,700, AJC TAB Number 1 Club 2YO H., 3d Magic Millions Wyong 2YO Slipper S., 4th AJC Gimcrack S., L. Dam of-

Triple Snitz. 2 wins at 1000m, 1100m, ATC TAB More Than Winning H., 3d ATC Pro IT H., Schweppes H.

All Show. Winner at 1500m, QTC Show Ego H., 2d QTC Slight Chance H., 3d QTC Ascot Bar H.

Canzero. 2 wins at 900m, 1000m, 2d STC Freeway Hotel Artarmon 2YO H., Deen Vat 2 Sauvignon Blanc H. Dam of-

Rather Sweet. 2 wins at 1000m, 1100m, A$90,765, 2d ATC TAB More Than Just Winning 2YO P.-twice, 4th ATC Silver Slipper S., Gr.2.

Almas. 7 wins to 1200m, A$121,880, to 2020-21 in Aust.

Princess Celestia. 2 wins at 1000m in Aust.

She's Sirius. 2 wins at 1600m in Aust. Dam of-

Sirileo Miss (Pride of Dubai). 2 wins at 1300m, 1400m, A$158,400, in 2020-21, MRC Big Screen Company H., 2d Ballarat TC VOBIS Gold Eureka Stockade, MRC Ladbrokes Easy Form H., 3d SAJC Auraria S., Gr.3.

Sophia's Choice (Fastnet Rock). 3 wins to 1400m, A$129,120, to 2020-21, 2d VRC Springtime H., L, MRC Ladbrokes H., 3d MRC Ladbrokes Same Race Multi H., SAJC Soul Growers H.

Coys. 6 wins-1 at 2-from 1200m to 1900m, A$236,400, to 2019-20, ATC Fresh for Kids 2YO P., Canterbury League Club H., Wrapt Freight H., 2d ATC Turf Club H., TAB Rewards 2YO P., Kooindah Waters H., 3d ATC Turf Club H., Book Summer Hospitality H.

Styleman - Dragon Pioneer (H.K.). 3 wins at 1000m, 1200m, A$47,600, HK$2,512,350, HKJC Ma Wan H., St George's Challenge Cup, 2d VRC Planet Ruler H., HKJC Tai Po H., Staunton H., 3d MVRC Art Series Hotel Group H., HKJC Ruby H.

Oh Cecilia. 3 wins to 1500m to 2020-21 in Aust.

Stylish Kim. 2 wins at 1500m to 2020-21 in Aust.

4th dam

HIT IT STAR, by Hit it Benny. 4 wins-2 at 2-to 1200m, Gosford Slipper, L, AJC Broker's Tip H., Lawn H., 2d Newcastle JC Penfolds Classic S., Gr.3, Illawarra TC Brambles Classic H., L, AJC Australia Day H., Sledmere H. Sister to DIAMOND BENNY. Dam of 8 foals, 7 to race, 6 winners, inc:-

HITAPOTOMOSS (Twig Moss). 2 wins-1 at 2-at 1000m, 1400m, A$93,640, AJC Reginald Allen H., L, Key 2YO H., 2d QTC Mercedes-Benz Esprit H., L, AJC Silver Sharpe H., STC Spearex H., 3d AJC Light Fingers S., Gr.2, Mary Gilmore Welter H., STC Botanical Gardens 2YO H., 4th STC Triscay S., L. Producer.

Big Arnold. 4 wins from 1300m to 1650m, STC Tooheys Red H., AJC Ansett Australia H., STC Marrickville H., HKJC Pottinger H., 3d AJC Zephyr Bay 2YO H., STC Jay Jays Jeans Warehouse H.

Canicula. 3 wins. See above.

Hit the Waggon. 2 wins-1 at 2-at 1200m, AJC GA Eastment H., STC Salt Pan 2YO H., 3d AJC Silver Sharpe H.

Little Deuce Coupe. Winner at 1000m, 2d AJC Warren Miles & Associates 2YO H., Rugby.com 2YO H., STC Tooheys New Night Racing 2YO H., Stargames H. Dam of-

Hot Rod (Pentire). 2 wins-1 at 2-at 1300m, 1600m, ARC Celebrating Diademe 2YO H., Auckland Co-Op Taxis H., 2d Hawkes Bay Traderacks 2YO H., 3d ARC Sunline Vase, Gr.3.

Bold Moves. 7 wins from 1200m to 1600m, A$119,390, SAJC Allan Scott Park Morphettville H., Pt Noarlunga Hotel H., Adelaide Galvanising H., AMWU Precarious Work H., 2d SAJC Caroma Dorf H., Yalumba H., Nilsen SA H., 3d SAJC Haden Engineering Flying H., Jordan Plumbing H.